If you land on a website with some issues and find a way to call them or chat with them, you will surely go for the chat option. This is so because chatting is simply easy rather than calling and staying on hold for an undefined period. That is where WordPress chat comes to your rescue.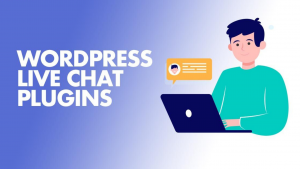 With the help of live chat, you can get your queries solved without a delay. People can do other things too while getting a reply on the chat and won't be hung up on just one thing. You can use a live chat plugin to add the live chat feature that too without any technical knowledge.
Now, the question is which plugin to go for?  We have compiled a list of WordPress chat plugins
Top 5 WordPress live chat plugins 
1. Zendesk
Zendesk Chat is considered to be sophisticated, minimalistic and easy to navigate. The catch is it doesn't let you modify the widget. However, there are a number of key features like pre-chat surveys and visitor tracking that are exclusive. The onboarding process is also well thought out.
Even though you can go for a free version of a chat, it is only free for those who have subscribed to any Zendesk Support Plan.
Zendesk's apps are about unified customer support. Their WordPress live chat is one of the many products that they have. Therefore, to make the most of it, you will need to assimilate your Zendesk Chat with other Zendesk apps and pay for them distinctly.
2. Live Chat
It is an excellent live chat solution and as the name suggests, it is aimed at providing an easy live chat.
If we talk from the side of the customers, LiveChat welcomes people with a nice chat box at the bottom of the page. That box is always in vision and can be opened with just a single click. After the conversation is completed, your customers can leave feedback and rate their experience with your agent.
They can also give you a shout-out on social media through the share buttons fixed in the chat box.
This is not all. It comes with a number of amazing features that have been listed below:
You can engross customers directly rather than waiting for them to make the first move. By taking the first step towards initiating a conversation, you are likely to increase the likelihood that the customer is going to walk out with a piece of constructive knowledge.
You can customize the chat window as per your convenience
You get to control all the conversations from a single dashboard even if you have LiveChat set on a number of sites.
Every customer interaction is color coded that indicates how long the person has been waiting.
You have access to the complete history of the chats
There is 2 weeks free trial for every new user
3. Sendinblue
This is more than just a live chat box. With Sendinblue, you get an embed code that you can put in your site's footer which can be done through a WordPress Customizer.
We are mentioning this because it is an exciting substitute for those site owners who are looking for a multi-purpose tool that would handle more than just live chat.
It is famous for its email marketing tools that are amazing. The best part is that you can use Sendinblue to swap a number of other tools that too as a part of one package.
Apart from live chat, Sendinblue allows you to:
Send broadcasts and email newsletters
Set up email marketing computerization
Send email through its SMTP
Set up and handle Facebook ads
Create landing pages
Send a text message
Sendinblue is a great answer for those who know that they will need to get tools to handle all of the above. Therefore, isn't it better to handle everything with the help of one tool instead of a handful of them, right?
4. Drift
The Drift live chat website plugin is unflinching and has a very unique feel and attitude, although some may find it a little extravagant. When we compare it to other WordPress plugin chat apps, the interface feels less spontaneous. Sometimes, it might be a task to find what you are looking for. For instance, some icons tend to appear and disappear in diverse situations.
The Free plan is very basic and does not include chatbots. Therefore, we will only suggest it if you want something fancy.
5. Tidio
We have saved the best for the last. This is one of the coolest live chat plugins to get up and use. All you need to do is start the plugin and you're all set. The chat boxes have three designs that can be fully color modified to go as per your branding.
Chats are handled from a Tidio Chat tab which you can use right from your WordPress dashboard. You can also manage chats by installing a particular desktop, iOS, or Android app.
If you're not able to chat for any reason then offline messages are sent directly to your inbox. Likewise, if a visitor leaves the chat then you can continue the chat via email.
We hope that you will be able to make an informed decision after going through the list of the above live chat plugins. If there is anything else that you need to know then do reach out to us.
Conclusion: WordPress live chat plugins 
So, these were the five exclusive WordPress live chat plugins to make the most of it. Having them on board can help you in using your WordPress website to the max. Facing trouble in installing and using the plugins? No problem! Get on touch with WordPress support phone number for further assistance. We are 24/7 live to provide prompt support.
Great to have you on WordPress! Now you can create an elegant-looking website, blog, or app. If you are done with a basic WordPress setup, then it's time to customize your website with WordPress font plugins. Here we have chosen the top 7 font plugins worth using in the year 2021 for your newly created WordPress site. 
Whether you own a business or planning to start a venture, be on the web is essential to grab maximum eyeballs in order to do sales. To fulfill those plans, one thing can help and that is the WEBSITE. Now you might drop the idea of saying it to be too expensive as you will need to hire a developer to design the website.
Well, what about creating a website for free and beautifying it with a WordPress font plugin! Shocking indeed. Yes now you yourself can create your website, for free (pay for a domain name) and customize it with a WordPress custom font plugin in the end, making it unique and enhancing the user experience.
Not sure about which WP font plugin to use for your WordPress website? Don't worry! Here we have listed down the top 7 WordPress font plugins worth using for your website.
List of Top 7 WordPress Font Plugins – How To Choose The One For Your Website? 
Your selection of font plugin for WordPress depends on several factors like where you want to use the plug-in and for what purpose. You can use these plugins for complicated things like using Latin or Greek text or just to tweak the font style. After learning the specifications of each of these top 7 WP font plugins, you will be mesmerized to know that how much variation you can do in your website in order to give it a personal touch.
WP Cufon WordPress Font Plugin 
The first on our list is WP Cufon which is a special type of WordPress font plugin that can only be used to force Cufon font on your WordPress content. Installation and set up of the Cufon font plugin is quite simple and once activated you just have to upload the font files directly to the Cufon plugins font directory. To activate the Cufon fonts you will need to visit the Admin Menu and select which elements of WordPress text need to be replaced with a wide variety of Cufon fonts.
However, it comes with a minor drawback as you will need to host the font files, hence adding to the bandwidth usage in case you own a high-volume traffic website. Another one could be you have to cross-check the fonts license to verify if it can be used on the web or not.
Fontific 
The second on our top 7 WP font plugins list is Fontific which allows the users to pick the available fonts from the Google Web Fonts library. In order to apply the Fontific plugin, you will need to install and activate it anddetermine the font rules under the Fonts Panel in the WP Appearance menu. Moreover, you can also preview the changes before saving them to check how your website will look like. Also, the Fontific WordPress font plugin has a user-friendly interface wherein you can easily adjust the font size or the line-height.
Typekit 
Typekit is another font plugin that you can use on your WordPress website to make an impressive webpresence. It is different from others with respect to the paid plans that it offers in exchange for access to a large font library. They also allow you to get a maximum number of pages. Typekit also provides free packages, but those have a limited number of fonts to choose from. After installing the Typekit plugin, the user needs to configure the selector and define CSS rules. It further allows complete access to elements such as font-weight. An important thing to note is Typekit plugin fonts are fully licensed and completely accessible.
Fontdeck 
If you are not so tech-savvy and looking out for some simple and easy-to-use plugin then Fontdeck is a good option for you. With Fontdeck you can easily add custom fonts to your website including Fontdeck fonts. Moreover, it is highly capable to handle a site with high-volume traffic. Fontdeck WordPress front plugin also has an option to use premium fonts by paying an extra amount, once activated you can launch the project on Fontdeck's website and add fonts of your choice.
WP Google Fonts 
Not including WP Google fonts won't do justice to our top 7 list of WordPress font plugins. It is amongst the most popular plugins used by beginners and tech-savvy WordPress users. With this plugin, you can leverage free service from Google to add top-quality fonts to your WordPress website.
AGP Font Awesome
The next on our list is AGP font awesome. It comes with font icons with visual images. It helps you to integrate font awesome icons into your WordPress site or post. You can use some simple shortcodes or either you can use the visual constructor. AGP font awesome facilitates you to change a font color, background color, or even the text to make it a highly user-friendly website.
WP Web Fonts 
WP Web fonts are a highly versatile WordPress font plugin and they can also work with Google Web Fonts. When you want to use this plug-in then you need to simply grab the font Google Web fonts website, copy the code and paste it on the desired place on WP web fonts Page and then it can be further added to HTML and CSS. Despite all these positive elements, the WP Web Fonts come with some complications while executing, hence we generally do not recommend the novice users, who are not familiar with coding, to use this font plugin.
Need Help On Using These 7 WordPress Font Plugins? Contact Support 
Well, that was our recommendation for top WordPress Font plugins. Hope you have run through each one of them and got an idea of which one to use for your WordPress site or blog. If still you have any doubt regarding functionality and need more clarity on which one to choose, then we are here to help. You can connect with WordPress support and get the prompt resolution of your query.
WordPress wiki plugins have the potential to ease out things for you and if you have no clue about them then you are where you should be. We have curated a list of top WordPress wiki plugins for you that will help you out for sure.
Top 5 WordPress wiki plugins
1. WP Knowledgebase
If you are obsessed with providing a great user experience then you must go for this Plugin. You can generate a great knowledge base that delivers necessary as well as detailed information. This plugin is easy to customize and works with any WP theme and it will also give you a template library.
You can customize everything, from colors to the layout; the ball is in your court. It is very important as the knowledge base is the primary place where people go for answers. You will be able to make a good first impression if you keep your designing professional and follow a decent structure.
You can also choose if you wish to display the comments on the customers on the knowledge base articles or not.  If you want an improvisation in the navigation then you can amalgamate breadcrumb functionality in the base.
The features that make it amazing are:
Very easy to use
Can search quickly along with predictive text
A wide range of sidebar widget to choose from
The option to drag and drop for a customized order of articles
2. Yada Wiki
A knowledge base can swap the game for a number of businesses especially for those who offer products and services used by a great number of customers. You must be aware of the fact that a knowledge base works round the clock and this is the first place where people hunt for answers. Therefore, you need to ensure that it has everything.
This is where Yada wiki plays the role of your best friend. It gives wiki post type, custom tags and it also blends in a table of the content section. All you need to do is install this wiki plugin from the WP directory or upload the files directly to the server. You can activate with a click and apart from the easy installation, this blends in amazingly into any theme and gets detailed documentation. It also has a wonderful support team just in case you have any doubts in mind.
The features that set it class apart are:
Easy to install
Custom tags and categories
The option of wiki post type
3. Very simple knowledge base
If you offer a service that includes seeking assistance from a support team then you already know how important a knowledge base is. Customers will be able to find the answers easily before they connect with the support team. This wiki plugin is the perfect option if you wish to produce any sort of knowledge base, FAQ, link portal, or bulletin board. This plugin comes with a number of features too and it is way too easy to use which sets it apart from the other plugin options.
All you need to do is add a short code on a specific page or just use the widget to show your categories and posts. You can add a particular attribute to customize it as per your preference. Its amazing features are:
Way too easy to customize
Flexible features
List categories and posts
FAQ, Wiki functionalities and bulletin board
4. Know How – A Knowledge Base WordPress Theme
When you provide an elaborated knowledge base, the users will find their answers without navigating a lot. It is beneficial to you because when they find their answers quickly, they will be able to make the purchase quickly too.
This wiki plugin helps you to offer everything at one place and it is very easy to manage too. It is made with amazing SEO practices and will make it a point that your knowledge base looks good on all the devices. This also comes with an integrated FAQ section that is pretty inclusive.
The features that set it apart from the competitors are:
Great level of search engine optimization
Includes FAQ page
Easy to customize
Great and practical features
5. Encyclopedia / Glossary / Wiki
This is another WP wiki plugin that you can consider. It lets you create, manage and customize any sort of knowledge base that includes lexicons, wiki pages, a dictionary as well as encyclopedias.
What gives it an edge are the top notch features and functionalities. Firstly, you can group vital info via tags and categories. This lets your audience find anything that they want without any difficulty. Be it user comments, featured images, related items or excerpts; you can include anything in the database. It generates an index page on its own with the items that are stored in alphabetical order. Due to this, it gets very easy to find some specific information. It also supports WP menus and supports you to add all the components of the knowledge base on the menu. The features at a glance are:
Generates an index page with all the items on its own
Categories and tags
Can be fully translated
User comments and featured images
Content type that can be selected
We hope that we were able to assist you with the WP wiki plugins. If there is anything else that you need to know then all you have to do is get in touch with the WordPress Support and the experts will guide you.