Need WordPress Support For Your Issues?
It's okay to get WordPress Support sometimes especially when you are in hurry and need to get rid of issues immediately. Our WordPress Support experts and development teams are well experienced and won't let you down. Whether you are facing any issue with your WordPress website or need our help creating your website from scratch, you can reach us right away and talk to our support team regarding the matter.
You can either get help for your particular issue or purchase our support packages that cover eCommerce support services, website maintenance, fixing the malware-infected or hacked sites, etc.
Our support services are live all day long so you don't need to worry about reaching us whether it's midnight or early morning. Just give us a call at our helpline and we'll answer your call immediately to assist you further with your problem.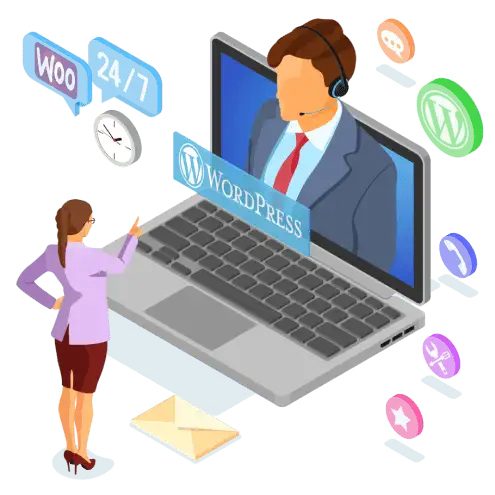 What does WordPress support.co do?
WordPresssupport.co provides professional support for your WordPress website. We are a team of highly skilled technicians who are inspired to assist users with their WordPress websites. We bestow users with WordPress theme customization, speed optimization, design, and offer development, maintenance, and security services.
How do we offer help for WordPress?
We work as WordPress support and, thus, assist users with their WordPress issues and queries. Suppose your website takes more time to load or is not getting traffic, come to us. Our expert will scan your website and see what's exactly causing the problem.
Is WordPress support available for a live chat?
Yes, WordPress support executives are always available for a live chat. You can ping them anytime and share your problem. If you have questions regarding our services or WordPress, feel free to ask them. Our executives are certified technicians who have experience in dealing with WordPress issues.
Is WordPress a good platform for new users?
Yes, indeed. This is the finest platform to start with. WordPress is used widely by millions of users. Thus, one-third of websites are built on it. You can use the free templates, themes, and plugins. However, after some time, you may need external help. We'll assist you, don' worry!