Why Install WordPress Updates?
Have you ever wondered why you need to update WordPress when it's just working fine for you? Well, the answer to it is simple! It gives you an improved experience.
But what if you don't want any more functions or features and are just too happy with the current version of your WordPress? You can keep using the current version of WordPress as long as it doesn't create any issues for you. Or as long as the version isn't supported anymore. But now or later, you're going to need the updates. WordPress updates are more about being proactive than reactive. In simple words, updating the WordPress site is preventing ugly incidents in advance. Just like any other software, updating WordPress manually or automatically is not mandatory but it's important for a couple of reasons.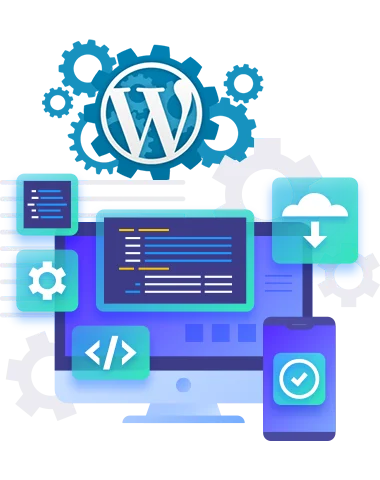 Why you should update
WordPress

manually or automatically?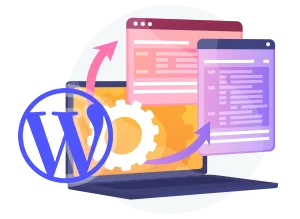 WordPress Security Updates
Security is the most important reason to update a WordPress site. As WordPress updates usually feature security enhancements, they will help your sites from any sort of exploitation. The open-source website creation platform is backed by a massive community of developers and security experts that are constantly working on making it better. As soon as a bug is found in the current version, they start working on its fix and roll out the latest version with the problem resolved. If you won't update your WordPress to the latest version, your website can be easily targeted by malicious code distributors, and hence it's your loss.
Bug Fixes
As we mentioned above also, updates are mostly a new fixed version of the previous one. All WordPress versions go through a strict testing procedure however it doesn't keep small bugs from slipping through the cracks. These bugs might not affect your website in any way, still, it's better to update the WordPress and get rid of any possible problem before it backfires.
Speed
With the ever-evolving technologies, WordPress also focuses on making it more efficient and faster than before. So, if you want your website to perform better in terms of search engine rankings or user experience, you must stay updated with the latest WordPress updates.
New Features
Major updates roll out major improvements/features to WordPress such as in previous few updates WordPress added the ability to easily include embeds in video and text widgets, an inline link editing, a new plugin directory, and many more. Therefore, WordPress updates will only help you improve the content on your site and make it better in every way possible.
Compatibility
Plugin and theme developers frequently coordinate their updates to coincide with major WordPress releases in order to take advantage of new features and advancements. However, if your WordPress plugins aren't following best practises and coding standards as suggested, an upgrade may also break them. This is why you should always back up your WordPress site on a regular basis to avoid any such issue. To summarise, the only possible disadvantage of updating WordPress is that your site may break occasionally. However, you do have the following advantages:
Improved security
New features.
Improved performance
Bugs free experience
Improved compatibility
Performance
That goes without saying. If your site is running slow, facing glitches or if there's any need of improvement, updating wordpress is your answer. It can help you get an error free and smooth experience of your WordPress site.
Errors That Can Occur After WordPress Update
1. This Site is Experiencing Technical Difficulties
"This site is experiencing technical difficulties" message usually occurs when there is something wrong with your WordPress site. This fatal error protection feature was introduced in WordPress 5.2 version. The complete details about the issue are then notified to the WordPress admin by email. From the email, you can access the link that will allow you to access the backend and fix the error.
This issue can occur due to various fatal errors mentioned in this article and even more. The only way you can fix this problem is through an admin email. In case you happen to not receive an email from WordPress regarding the error or if you no longer have access to the admin email then you must regain access to your admin email first.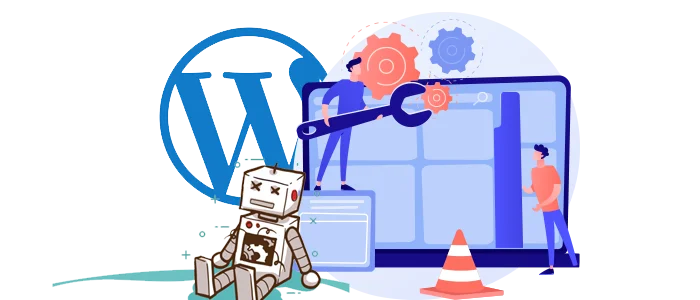 2. White Text and Missing Buttons in WordPress Visual Editor
Sometimes when you update WordPress you see that the buttons in TinyMCE visual editor are missing and in place of that, you will see white spaces. This error occurs due to an issue with concatenated JavaScript. Other possible reasons that might cause this issue are corrupted TinyMCE files or issues with some plugins used to modify the TinyMCE ship with WP.
To work on the fix of this error you must find out the underlying cause. Once you are aware of the issue you can easily get rid of "missing buttons in WordPress visual editor error".
3. 403 Forbidden Error in WordPress
403 forbidden error for 403 forbidden – you don't have permission to access '/' on this server error can occur due to various reasons. As you can see in the error message, due to the 403 forbidden error you cannot access a particular page of your WordPress site as the server doesn't allow you to do so.
The possible reasons behind the error include poorly coded security plugins, issues with file permissions, or faulty server configuration.
The issue can be fixed by working on the underlying cause and you will be able to access the page without any more trouble.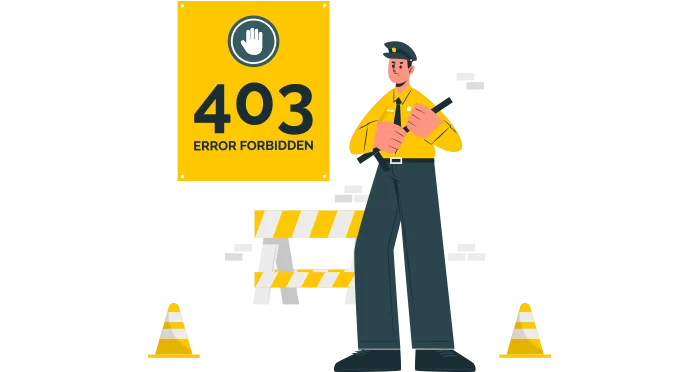 4. WordPress Internal Server Error
The WordPress internal server error is among the most troubling as well as the most popular WordPress issues.
The error usually shows up when there is something wrong with your WordPress but the server doesn't know where. Due to this, it becomes hard for you to work on this error and you will end up being even more frustrated.
Now it is on your end to find out what is going wrong with your WordPress. If you have no idea, you can start with checking your .htaccess file. Make sure the file is not corrupted. To check the file you need to access your site using FTP. Look for the .htaccess file in the same directory as folders like WP-Content.
Once you have access to the .htaccess file you need to rename it to fix the error. You can rename the file .htaccess-old or anything that you prefer. After that, re-visit your website and check if the WordPress internal server error still occurs.
1 Can Updating WordPress Break Your Site?
If you are wondering, whether there are any drawbacks of updating WordPress also or not, then you should read this. Sometimes, things don't go as planned and you can end up with a broken website after an update. But it doesn't mean you should not update your WordPress. It simply means that you need to be prepared with the solution beforehand. All you need to do is create a backup of your WordPress database and save it in a safe location for example another computer or cloud drive. Creating a backup of WordPress is a crucial step before installing, core, plugin, or even just themes updates. If anything goes wrong, you'll always have the option to restore WordPress from the backup and save yourself.
2 What To Do Before Updating WordPress?
Before updating WordPress, one should take a complete backup and save it in a remote location. You need to create and save the backup manually in a safe place even though you have an automated
WordPress backup plugin
set up. Here are the things that should be included in your WordPress backup:
Your complete WordPress database
All your media uploads, videos, images, and everything
WordPress themes
Your WordPress plugins
WordPress core files
Backing up all these things is important as there are chances things don't go well as they are supposed to. In such cases, you can at least restore your WordPress from the backup. As soon as you create your
WordPress backup
, store it somewhere safely (a different location from the current one). You can store the backup in cloud storage or a different computer or external drive.
3 How To Create WordPress Backup?
First of all, make sure you've installed the correct plugin.
Now go to WP-Admin and navigate to the plugin section.
Sign up for the service and when the dashboard opens, add your website to it.
After the site is added to the plugin, hit the "Backup Now' button to get started.
The backup can take some time to finish depending on the database stored on your WordPress. Once the backup is finished you need to access the history section to check all your backups.
From there you can download the backup on your computer or any external drive. You can also upload the backup directly to cloud storage such as Google Drive or Dropbox.
4 How To Update WordPress Themes?
Open wp-admin and click on the WordPress update button.
Select all the plugins that require an update and then hit the Update Plugins option.
Wait for the update to install properly and as soon as it finishes you can go back to the WordPress update page. Now you need to follow the same procedure for how to update theme In WordPress. Click on the update now button and select all the available themes that require updates.
Wait for these themes to get updated and then go to the Appearance section and then select Themes.