WordPress Security Issue: Why You Need To Worry About It?
The WordPress security issue is a matter of big concern for every individual who has a WordPress-powered website or using WordPress CMS. Being a popular Content Management System doesn't mean it is free of issues. So, the question may arise, is WordPress secure? Here is what WordPress itself says - WP is secured until a user follows the best and recommended WordPress security practices. Hence, in order to get rid of WordPress security vulnerabilities, the users have to be conscious and careful while performing any action on sites. Here are the five most common WordPress security issues that can worry you.
Brute-Force Login Attempts
The most common WordPress security issue, Brute Force login attempts means trying to access the WordPress site using different combinations of username & password. It is a trial and error method in which intruders attempt to access your website or your WordPress login page. As there is no limit to login attempts in WordPress, hence the cybercriminals get enough chances to break into your WordPress site. Even if the attempt is unsuccessful, it can overload your system or hang your website as well.
Backdoors
After a brute force attack, the backdoor vulnerability helps hackers to gain access to the WordPress website through WP admin, FTP, and SFTP. It creates a hidden passage that bypasses the security encryption and allows the cybercriminals to wreak havoc on the hosting servers. As per stats, the backdoor was responsible for almost 70 to 72% of infection on WordPress sites. Mostly the outdated WordPress security updates are responsible for the backdoor intrusion. It appears like a legitimate WP system file and makes its way through the WordPress database.
WP PHP code vulnerability
PHP or hypertext preprocessor is a code that runs your word press website. Any vulnerability in a WordPress site's PHP code can leave your website open for attackers. Also called File Inclusion Exploits happens when a user executes vulnerable code to load remote files, resulting in attackers gaining access to your WordPress website's wp–config.php file. This is the most important PHP extension that is required for a WordPress installation. Hence for securing WordPress website you should avoid vulnerable PHP code or contact WordPress support.
Cross-Site Scripting (XSS)
The severity of Cross-Site Scripting is such that it is alone responsible for 85% of WordPress security vulnerabilities. The working mechanism of XSS is that the attacker takes advantage of unsecured JavaScript and makes the user open a webpage with bad security. That way the attacker can easily steal the data from the user's browser. For instance, if you try to input data on any form during a Cross-Site Scripting attack then that would be stolen by attackers. The basic purpose of an XSS attack is to grab hold of the cookie or session data or even rewrite HTML code on any page.
Malicious activity
Malware or malicious software can cause harm to a computer. Cybercriminals use malicious codes to get unauthorized access to a website to steal sensitive data. Such activities can hack a WP website hence is the need of securing WordPress sites to prevent such intrusions. The most common malware infections include Pharma hacks, malicious redirects, and drive-by downloads. To remove the malicious software the users have to perform WordPress security updates or install a fresh version of WordPress.
Secure Your WordPress Website
Contact Us

Wordpress Maintenance Plans
Essential Plan $49/mo Includes All
Essential Plan Plus
Weekly Back Ups
Security & Malware Scans
Free Malware Cleanups
Uptime Monitoring 24/7
WordPress Updates
Maintenance & Bug Fixes
Support (email)
Essential Plan $49/mo Includes All
Essential Plan Plus
Weekly Back Ups
Security & Malware Scans
Free Malware Cleanups
Uptime Monitoring 24/7
WordPress Updates
Maintenance & Bug Fixes
Support (email)
Essential Plan $49/mo Includes All
Essential Plan Plus
Weekly Back Ups
Security & Malware Scans
Free Malware Cleanups
Uptime Monitoring 24/7
WordPress Updates
Maintenance & Bug Fixes
Support (email)
Ready for 24/7 WordPress Security Services
Secure My Website

WordPress Security Benefits
1. 100% Protection
We believe in offering 100% and quick protection for your WordPress site. With our WordPress security plans, you will be able to diagnose, fix and prevent cyber threats as soon as they occur. So whenever you have a question – is WordPress safe, call our WordPress security experts to get an answer.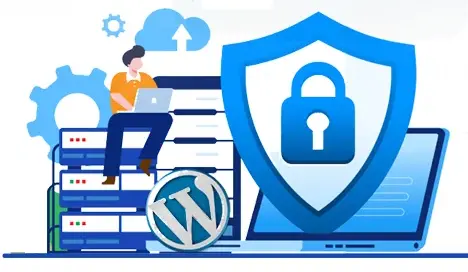 2. Full Content Protection
Our WordPress support services don't let anyone ruin your website. We can conduct the WordPress security scans in order to protect your side, even if the firewall application fails to do so. For more information get in touch with our WordPress masters and let them handle the situation.
3. On-Time Updates
We won't let you miss the important WordPress security updates. WordPress keeps releasing patches with advanced fixes for vulnerabilities. If you are missed out on some important core updates, no need to worry now as we are here to get it done on time.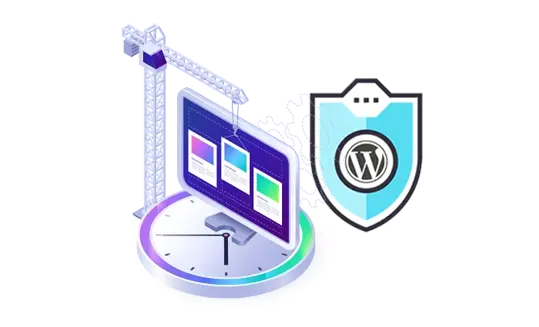 4. Stay On Top Of SEO Rankings
Safe WordPress websites are loved by search engines like Google. If malware is detected on your site then most likely it will be blacklisted from indexing. Our advanced WordPress security scans will automatically remove the malware or any such activity to get your site on top of SERP.
5. Build User Trust
Having enhanced WordPress security builds trust in users. Conversely, if your WordPress site is not safe to browse then the hackers will steal sensitive user information. Such scenarios tarnish the image of sites resulting in users not clicking over the website.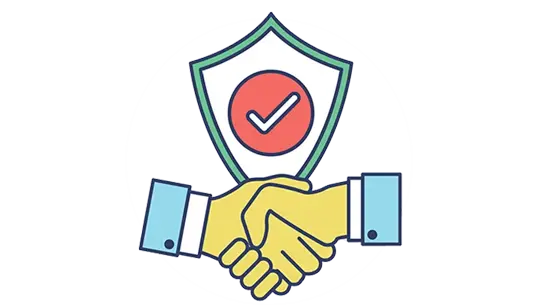 1 What are the best WordPress security services?
Using a security tool for your WordPress site is important for having a successful business. These security services are needed to protect data, your private data, your website, and from malware. All these reasons make a WordPress security plugin installed on your site extremely important. The following security plugins will work the best for your WordPress:
JetPack
iThemes Security Pro
Sucuri
Google Authenticator
WordFence
2 Do I need a WordPress security plugin?
WordPress plugins are quite popular and in demand by users. But not all sites require them. Unnecessary security plugins may slow down your site and add features that are not required. If your site handles many operations then you can go for all-in-one plugins. Otherwise, adding a feature or targeted plugin will keep your WordPress site secure enough.
3 Does WordPress have security issues?
Yes, WordPress features make it susceptible to security issues such as these:
Brute force attacks are the most common way through which hackers try to get through. The trial and error method of entering multiple usernames and passwords until the right combination is achieved makes it dangerous.
SQL injections
File Inclusion exploits
Cross-site scripting
Malware
4 How do I ensure security in WordPress?
These simple tips will keep your WordPress site secure:
Use a good hosting company that provides multiple layers of security.
Use premium themes but make sure that there are no loopholes in that version.
Install a WordPress security plugin that provides all features.
Use strong passwords combining letters, numbers, and special characters.
Disable file editing once your site is live.
Install SSL certificate to make payments and necessary transactions safer.
Change your default WordPress login URL.
Limit login attempts.
5 Does WordPress need a security plugin?
If you are concerned about the safety of your WordPress site, especially if it runs on a large scale, then installing a security plugin is a no-brainer. There are manual ways also through which you can secure your WordPress site. These include special features and security plugins that provide a single security plugin depending upon the need of your site. But installing a security plugin or implementing some type of a security program will save you both money and time in the long run.
6 Do I need WordPress security?
WordPress is the most commonly hacked Content Management System, no one is 100% safe from hacks and malware. So it is recommended to add layers of protection to your WordPress site. You need WordPress security because of the reasons mentioned below:
WordPress security keeps your login page safe from potential brute force attacks.
Regular scanning will keep you updated about potential threats to your site and the ways to solve them.
It keeps your WordPress database protected and does regular backups.
It creates a Website Firewall blocking unwanted connections and stop hacks.