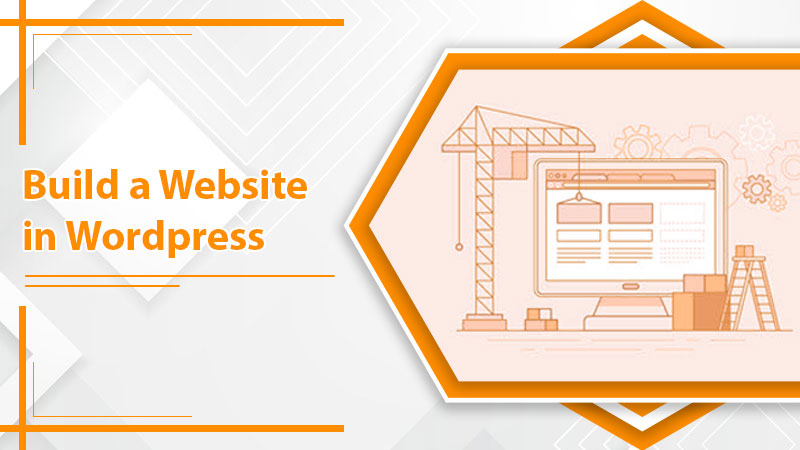 Build a Website in WordPress Using These Easy Steps
Posted by
Have you always thought that building your website is nothing but impossible? Well, if you use the feature-rich content management system WordPress to do so, it won't take you long. This easy-to-use software has a great plugin architecture that allows anyone to build high-performing and functional websites. You can build a website in WordPress by first finding a domain name, hosting it, installing WordPress, choosing a theme, and installing plugins. After that, you can begin the process of optimizing your site for the search engine.
The process may sound complicated, but when you get stepwise instructions for the same, it wouldn't feel challenging. In this comprehensive guide, you'll find out the precise steps required to build a website with WordPress.
Difference Between WordPress.org and WordPress.com
Many people get confused between the two when trying to create a site on the WP platform. WordPress.org is a great option if you desire to manage your website by yourself and customize it fully. If you go with it, it means buying your domain name, installing plugins and themes, and editing code. You also have to care for your website's security.
On the other hand, choose WordPress.com if you want something that carries out most of the work for you. Managing the server, paying for hosting, or buying a domain ceases to be your tasks when you go with this option. A WordPress.com plan also provides many options for customization to modify the look and feel of your website.
Steps to Build a Website in WordPress
In order to create a website in WordPress, you need to follow certain steps. These steps are mandatory to follow for creating any sort of platform on this feature-rich content management system.
Setup the site and choose a hosting plan
To set up your website, you require a custom domain name as well as a hosting provider. The former means the name of your site. The latter means your site's home on the web. A web host keeps your website files.
The most popular hosting company is Bluehost. You can go to its website and select a hosting plan as per your budget and needs. WP Engine and Kinsta are also great hosting providers. After choosing a plan, you can select a domain name. When selecting a domain name, keep in mind the following points.
It should end with .com.
The name should be short and easy to spell.
Relate the name to your business.
If you are unsure, use domain name generators online.
Don use hyphens in the name.
After choosing a domain name and purchasing the hosting plan, you can sign in to your web hosting panel.
Get started with installing WordPress.
The next step to creating a website by WordPress is installing it. You will be required to install a content management system to link your domain to the site you are creating. You needn't do this if you are employing Kinsta or WP Engine. These services install the WP CMS for you automatically.
To install WordPress, you must log in to the account of the hosting service of your choice. Find the area for 'Web Hosting' and then locate the WordPress app. It will be under the 'Options & Settings' area. Bluehost offers a very simple installation process. You just need to sign in to your account and tap the 'Login to WordPress' button. In services like HostPapa, too, installing WP CMS is incredibly easy due to their Softaculous script installer.
Configure your primary domain within WordPress.
After configuring your domain and installing WordPress, you need to set up the primary domain within WP. It refers to a site address people will view in their browser's address bar the moment they enter your site. Follow these pointers to configure it and build a site with WordPress.
Head over to 'My site' in WordPress.
Tap' Domains.'
Now, opt for a custom domain you desire to be your primary domain.
Hit 'Make Primary.'
Confirm your action for this change by hitting 'Update Primary Domain.'
You'll notice a green box with a tick saying 'Primary Domain.' It indicates the successful verification of the update. That's it. You have configured the primary domain, which is a crucial part of creating a website in WordPress.
Beautify your website in WordPress.
This is a very exciting step to build a website in WordPress. It entails enhancing the visual character of your site by selecting a nice theme. There are a ton of themes and templates in WordPress. Each has distinct layouts, colors, fonts, and styles of formatting.
The default theme of the CMS is not quite appealing. But there is no shortage of free and paid themes for users to install. Among the premium themes, you can explore those related to business, beauty, photography, fashion, education, cuisines, and a lot more. You can also personalize your website pages with various builder tools.
Ensure that you select a theme that relates to your business nature and the kind of content you will be posting. Follow these pointers to modify the default theme.
Head over o the admin dashboard of WordPress.
Now, go to 'Appearance' followed by 'Themes.'
Tap the button 'Add New.'
You will come across a multitude of free themes that you can select and use.
If you want a specific design, use the filter search bar to filter them by the latest and popular.
After you pick a relevant theme, don't waste any time installing it.
Install a theme on your website.
In order to install a theme, look for the 'Install' button at the end of it. it will get installed. After the installation completes, head over to the 'Appearance' menu. Tap the link of 'Customize' there. You will notice a theme customizer getting launched. Now you can modify the settings of the theme you've chosen and also preview the modifications.
Don't worry about customizing the theme to the fullest. It's best to post some content and then see how your website looks. You can make modifications later on as well.
To successfully build a website in WordPress, you must add content to it. You can start by posting blogs that will feature the newest content on your website. Pages are static, meaning they cannot be changed. An example of a static page is your homepage.
You must first find out if you want to add a page or a post. Then follow these points to add them to your website.
Adding a post to the WordPress website
Head over to the admin dashboard.
Tap 'Posts' followed by 'Add New.'
Now you can write it as you want. Add a title and images, or modify the style.
Tap' Save Draft' to keep your drafts secure. Once you are done composing, click 'Publish.'
Adding static to the WordPress website
Go to the admin area.
Hit 'Pages' followed by 'Add New.'
You can insert a title to the static page, images, embed videos as well as content in them.
Lastly, tap 'Save Draft' or 'Publish.'
Use these steps to create the Privacy page, Contact page, and Disclaimer page.
A crucial thing to do to build a website in WordPress is to change the title as well as the tagline that WordPress puts by default. To change the title and tagline, follow these steps.
Go to 'Settings.'
Next, navigate to the 'General' page.
The title will be your website's name. You can describe the essence of your website or business in the tagline.
Change both these things as per your preferences.
Navigation menus make your website user-friendly as the readers can conveniently go to different areas. Head over o 'Appearance' and enter the 'Menus' page. Name the navigation menu and tap 'Create Menu.'
An empty navigation menu will get created by WordPress. You can pick the pages to add to it and hit the 'Add to Menu button. You can shift the pages as you want or lay them down differently if you feel the need. Once you are fully satisfied, hit the 'Save' button.
Make your website functional using plugins.
To build a website in WordPress successfully, you need to work on imparting a great user experience. It's possible only when you leverage the numerous plugins that WordPress offers. Do you know that there are nearly 60,000 plugins on the WordPress platform?
These pieces of software add a lot of customization and flexibility to any website. Many developers and third-party sites also offer plugins to allow users to add different features to their sites. Some good plugins you can use to build a site with WordPress include the following:
WP Forms Lite – Use it to insert a contact form on your site on the Contact Us page.
All-in-One SEO – This plugin helps you optimize your WordPress website for the search engine so it can rank on the web.
Yoast SEO – It is a popular plugin that takes care of all the on-page elements of your website.
SeedProd- It is a page builder you can use to develop custom designs. You don't need to possess any technical knowledge to create quality designs and layouts.
Sucuri – This plugin will help you audit and scan your website.
Weglot – It is a translation plugin ideal for many eCommerce platforms on WordPress.
Follow these instructions to install plugins.
Go to the 'Plugins' area in the admin dashboard.
You will see various plugins preinstalled by your hosting provider.
Tap 'Add New,' find a relevant plugin, and tap 'Install Now.'
Tap 'Activate' after a few moments.
Make your website high performing.
Although you have done most of the things necessary to create a website in WordPress, you aren't done yet. It's essential to optimize it so it can attract and retain traffic. You can optimize your WordPress website in numerous ways. Here are some vital steps to take.
Keep your plugins, these, and software updated. Every new update improves the way your site handles code and gives content.
Use caching as it ensures that your WP site's files don't require to be downloaded from the server every time someone visits it. Plugins like WP Super Cache will allow you to do it easily.
Use image optimization to compress large image files without affecting how they look. Tools like TinyPNG and Short Pixel optimize pictures automatically when they are uploaded by the user on their website.
Employ a Content Delivery Network or CDN to forge a faster and, thus, pleasant experience for your website visitors irrespective of where they reside in the world. It is a network of proxy servers. Each one has a copy of your site, which can be employed to deliver your content more speedily to users worldwide. This not only boosts your site's speed but increases its security as well.
Optimize the website databases. It means reorganizing them and, in turn, reducing space and increasing their efficiency. Optimize the website databases. It means reorganizing them and, in turn, reducing space and increasing their efficiency. A plugin like WP-DBManager manages databases pretty well. It optimizes, repairs, and removes unused databases.
Back up your website
The content is your website is invaluable. So, it makes sense for you to back it up! Back up your blog so you don't need to write them all over again in case of an unexpected crash. Writing content again takes enormous time and energy. So, ensure to make it a habit of backing up your website. If you don't have time to do so, check if your web host provides a provision for it.
Final Words
Now you wouldn't feel that to build a website in WordPress you need to carry out a complex process. This content management system has made it quite convenient for anyone to start their business website and forge a great online presence. Use this handy guide to create any kind of website. If you need more information, connect with an expert WordPress technical support service.
Tagged with:
build a site with WordPress
create a website in WordPress