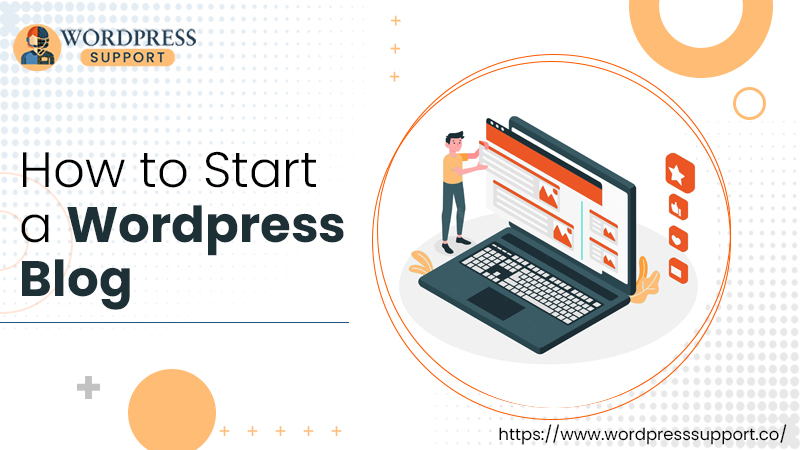 How To Start A WordPress Blog In A Few Steps?
Posted by
Summary: Creating a blog using free open-source WordPress software is a cakewalk and even a straightforward task. You can make your blog within a short span as no technical and coding skills are required. All you need to do is delve into How To Start A WordPress Blog and launch a blog in no time.
WordPress is the most powerful open-source Content Management System available for free to use. Many Business organizers, developers, designers, and even coders love this platform for developing the website. However, there is no hard and fast rule for creating a WordPress blog. Thus, we can say it can be done in just 10-15 minutes. Although it is easy to get started with a WordPress blog, knowing what is required and How To Start A WordPress Blog is yet crucial. That's why; we've got the step-by-step guide covered in the blog post to make your work simple and less tricky. Let's feast your eyes on the beginner-friendly instructions and start following them to create a blog today.
Basic things Before Starting A WordPress Blog
There are a few things that have to be assembled before you begin to create a blog on WordPress.
Decide a domain name that will be the name of your website.
Select a Web Hosting account where your website goes live on the internet. Also, the web host maintains a server.
Install WordPress on your Windows.
Your sincere pay of attention for 30 minutes.
Excellent Stepwise Instructions On How To Start A WordPress Blog
Beneath, we've accumulated the exclusive top-to-toe guide in order to begin creating an eye-catching blog on WordPress. The relevant tips will aid you to organize your effectual ideas, plan your content calendar, and optimize your posts for search engines. Let's have a glance at the below to understand how & where to start with it.
Step 1: Choose Your Domain Name & Hosting Platform
A domain name is what people type to directly land on your website. It is your web address or URL of your site presented on the internet. For example: google.com, wordpress.com, etc.
A web host is where your WordPress website goes live on the internet. However, every blog needs web hosting to get frequently accessible on the internet by other users.
Selecting a new domain and hosting platform is typically tough. Thankfully! There are numerous WordPress hosting companies providing a free domain name and ultimate web hosting service. But, we strongly recommend for beginners to use Bluehost as it is an official and somehow the oldest hosting platform on the internet. Howsoever, it is a widely popular hosting provider irrespective of others especially when it comes to WordPress hosting.
Some Fruitful Tips For Choosing A Domain Name
Opt out of a domain name similar to your brand or product.
Make it short so that it will be easier for visitors to type.
Avoid using a domain name that has complicated spellings as it can confuse your visitors.
Do not make it creative misspellings otherwise your visitors can mistakenly type in another website despite yours.
Do not use other organizers' brand names.
Make sure that the name you have opted for your blog makes sense.
Avoid using numbers, hyphens, or spaces in your domain name as it can create confusion.
Important Points To Consider When Choosing A Hosting Provider
The basic requirement and plan for the next 12 months for your site growth.
24/7 web host stability is essential.
One-stop Customer Support. If your WordPress website is running sluggishly or experiencing any technical glitches, you can get instant professional help.
Easy and even flawless to navigate for the installation of WordPress.
Budget-free and cost-effective are important if you are planning to run a website for the long term.
Step 2: Set up Bluehost
Following is the accurate procedure that will lead you to register Bluehost and install WordPress tapping a single click.
First and forecast, browse the official Bluehost site on your Windows Desktop.
Thereafter, give a click on the "Get Started Now" button.
Now, select a hosting plan according to your budget and online business duration.
NOTE: If you are a beginner, choose the basic plan only as it covers all the fundamental requirements of your site's operation.
Now, if this is your first time launching a WordPress website, create a new domain name by entering the name in the given field and selecting the extension from the drop-down menu. Otherwise, you can simply enter your existing domain name into the respective field.
Afterward, press the "Next" button.
Bluehost will help you choose a unique domain name that has never ever been used by others.
Now, Bluehost will take you to the registration form where you have to fill up the billing details along with your personal information.
Therefore, lastly, add your Account Information and finalize the package info to complete the process.
Afterward, you will be prompted to create a new password.
Set your password, and hence good to go with the Bluehost account.
After successful completion of the signing up process, you will receive a confirmation email from Bluehost with details on how to log in to your Bluehost cPanel. Moreover, you can manage everything from WordPress Support to emails, and most importantly install WordPress with no hassle.
Step 3: Install WordPress Software
Now, it's time to install WordPress blogging software to get started with your blog creation. The desired steps are at your fingertips. Let's walk through:
First, log in to your Bluehost account using the correct credentials.
Now, go to the "Home" section.
Finally, click the "Login to WordPress" blue button to get started with WordPress.
Once WordPress is installed and set up properly, feel free to create blog pages, customize the blog's design, and start blogging.
There are thousands of themes available on WordPress to structure your site according to your need. So, all you need to do is install a specialized pre-made WordPress theme that looks perfect on your site. Here's what you have to perform:
First, go to your WordPress Dashboard.
Hover over "Appearance" from the left menu and click the "Themes" tab.
Now, click the "Continue" tab to proceed.
Slightly take your mouse to a new theme and click the "Preview" button.
See how the design looks on your website. If you are satisfied, click the "Install" button to get it installed.
NOTE – Don't worry if the theme doesn't look exactly the same as shown in the screenshot as you can anytime customize and set it up later. Basically, you have to keep an eye on the designs, colors, typography, and other elements.
Step 5: Create Your First Blog
You were wondering How To Start A WordPress Blog, so, here you go. We have compiled an exclusive guide that will really lend you a hand in getting started with a WordPress blog. So, let's follow the below-mentioned guidelines accordingly to make a blog on WordPress quickly and efficiently.
Add A New Post
First, go to WordPress Administrator Area.
Now, from the list of options on the left menu bar, select the "Posts" tab.
Afterward, click "Add New"
Add Content
Now, you will be landed on a blank canvas where you have to add unique and user-friendly content. Make sure to save your work time-to-time so that whenever the internet connection is lost/poor, WordPress will save your progress. So, click the "Save Draft" button in the upper right corner to save.
Upload Images
Adding clear images to your WordPress website makes it more powerful and digestible. To begin uploading an image to your site's content, here's the step to follow:
Click the "+" symbol displayed at the top left corner. There, you will view different blocks.
Now, click on the "Image" block and select the image from your PC, WordPress library, or from other sources like Flickr.
Finally, click the "Upload" tab to get that particular image visible in the content block.
Add Links
Adding internal and external links is a crucial way to enhance content quality and site traffic. However, it is easy to insert hyperlinks to your content in WordPress. For this, follow the below steps:
First, select the text you want to hyperlink.
Thereafter, locate the floating menu box.
Select the icon of the link highlighted in blue.
Add a URL in the box that pops up
Click "Enter" to insert the URL in your content.
Finally, you've done it!
Add Functionality To Your Blog Post
To add more advanced functionalities to your WordPress blog, you need to install plugins. Plugins are very useful for adding additional functionalities such as:
Contact Forms
Social Network Buttons
Backups
Improved SEO
And many more.
Go to the Plugins section from WordPress Dashboard
Click "Add New" at the top of the page.
Type the keyword of the specific plugin in the search field and then click the "Install Now" button.
To activate the plugin after its installation, click the "Activate Plugin" tab.
Publish Your Blog
That's it! Customize your WordPress blog before attempting to post it. Once you are all set and ready to launch a WordPress website for the world, click the "Publish" tab. Hence, start your online journey with full confidence.
Final Thoughts: How To Start A WordPress Blog
Now, you finally know How To Start A WordPress Blog even being a beginner. We hope the above-said pieces of information have helped you in making a blog using WordPress. However, you can see it is not a rocket-science to create a blog post and publish it for the world.
But, if, still, you need advanced WordPress Support, contact us. We are expert tech specialists who have immense years of work experience in the technical field. When you make conversation with us, you can not only create a quality blog but also optimize your blog for search engines. Hence, get more leads and make more money with a professional WordPress blog.
Tagged with:
How To Start A WordPress Blog
WordPress Blog