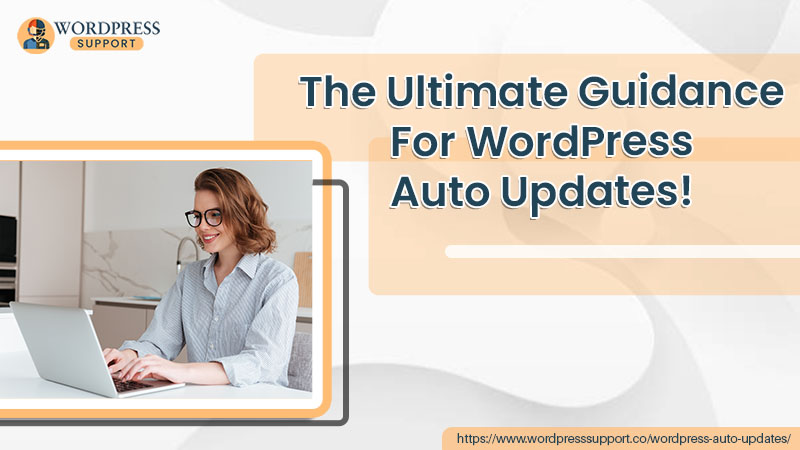 The Ultimate Guidance For WordPress Auto Updates!
Posted by
Have you ever experienced a situation where your website is inaccessible due to some update failure? Maybe you have experienced it once, or maybe even multiple times. Updating the WordPress site can be a tricky job that should not be taken lightly. IN THIS BLOG POST, we will let you know how to manage WordPress Auto Updates. So that you can avoid those situations and update your website in a safe way.
With the growing popularity of WordPress, hackers are also on alert to exploit vulnerabilities. And create malware that targets this CMS. Therefore, updating your site's security fixes is crucial to prevent further hacks. Also, the latest security fixes are installed on your WordPress website. Furthermore, new features in it from time to time can feel like a full-time job. However, there's no need to worry! Here is some advice on how to control automatic updates on your website.
Is WordPress Auto-Update Necessary?
Updating the WordPress software is crucial for maintaining your website. Software upgrades not only give users the newest features. It also improves security on WordPress websites. However, staying current with new upgrades may take a lot of effort. Thankfully, WordPress allows you to set up WordPress Auto Update.
Why Does WordPress Need Updates?
All software must be updated regularly to give customers the best experience. This also applies to WordPress.
How does utilizing the latest WordPress version affect user experience?
Check out the answers down below.
WordPress updates are rigorously tested before publication. But occasionally a bug can slip through. For instance: The "Quick Draft" option on the dashboard screen was broken in the 3.8.2 release. This problem was resolved in version 3.8.3.
WordPress routinely releases updates with new functions and enhancements. It helps you optimize your websites. For example, WordPress 4.8 has text, audio, image, and video media widgets. But WordPress 4.9 version adds a new gallery widget. This allows you to build a native WordPress gallery.
All WordPress site owners prioritize security. WordPress Updates Core, Themes, and Plugins regularly. Hackers can readily exploit your website's vulnerabilities and limits. Furthermore, they can analyze WordPress's open-source code. Older versions are more vulnerable. Worst Scenario, Content Theft!
How To Handle WordPress Auto Updates Easily?
Here is a quick lesson for managing WordPress Auto Updates:
Always Run a WordPress Update Audit Before Committing
First, we'll discuss how to audit your WordPress site for WordPress Updates. Audit your site's version to see if new updates are available. If yes, make a note of it. We recommend you check the WordPress Update page for site updates: https://WordPress.org/support/topic/automatically-update-WordPress-to-the-latest-version?replies=7
A WordPress monitoring plugin is a great way to follow WordPress Updates. A monitoring plugin will help you track the latest security updates. It also lets you know when there's a new version of your WordPress CMS available. As well as it will let you know about WordPress Auto Update Plugins.
Turn Off Automatic Updates
Turn off Automatic WordPress Updates to keep control. This way, you will be able to manually update the CMS when required. It is the best option if you are running a website with high-security standards. Or for managing a client's WordPress site.
To do this, go to the WordPress Admin Panel > Updates Page. Afterward, select the "Automatic" option, and click on "Turn Off".
Alternatively, turn off Automatic WordPress Updates by adding the code to your wp-config.php file.
Manually Update WordPress Core & Plugins
The WordPress Auto Update feature updates the core WordPress files. It includes the WordPress Auto Update Plugins, installation files, and themes. However, you can also force the CMS to update core WordPress plugins and themes.
Instead, you can manually update your WordPress core and plugins. Here's how to update WordPress. Head over to the WordPress Admin Panel > Plugins. Now, pick "Click Here To Update Now" next to the plugin you want to update, then click "Update". Staying updated with security fixes requires manually upgrading WordPress plugins and themes.
What To Do If WordPress Failed Auto-Update?
WordPress Failed Auto-Update or has not been operating for a number of reasons. This includes Changing File Permissions, & Server Script Timeouts. Or, Php Memory Limit Exhaustion, Safe Mode, and others.
Here is a how-to manual for fixing it.
For the auto-update to work effectively, the file permissions must be set properly. You ought to attempt modifying the /upgrade/file directory's permissions. The temporary file used by WordPress during installation is stored in the /upgrade/directory. Moreover, it can only be produced if the server can write to the/upgrade/directory. Try changing the directory permissions to 777 or a CHMOD equivalent. Next, retry the auto-update to see if it fixes the problem. You've solved the WordPress Failed Auto-Update problem if the auto-update is successful.
Try Turning Off The Safe Mode
The Auto-Update issue can be resolved by turning off Safe mode. According to the PHP handbook, Safe Mode is no longer supported as of PHP version 5.3.0. The Apache configuration file is another place to add this excerpt. Restart Apache after adding the code given below to your http.config file. "Directory /var/wwwpublic>php_admin_flag safe_mode off </Directory>" is the code.
If the issue persists, take help of the WordPress Support. It can answer your queries and fix them in no time. The WordPress auto-update failure should be resolved using the guidelines provided above.
Winding Up
We hope this article will help you to learn how to manage WordPress Auto Updates. Auto-Updates are a great feature of WordPress. It enables you to keep your website updated with the latest WordPress features and security updates. At the same time, WordPress Updates can be a tricky task. They not only require you to find the hidden bugs. But also to update the plugins and themes to the latest versions. Yet, you can also manage when to auto-update WordPress. The best way to do that is by checking your server logs. If there are any errors occurring, then you can use the proper solutions to address each problem.  We hope that the above post was helpful to you. If you have any queries, feel free to reach out through chat or via email.
Thank You!
Tagged with:
WordPress Auto Update
WordPress Auto Update Plugins
WordPress Failed Auto-Update
WordPress Updates