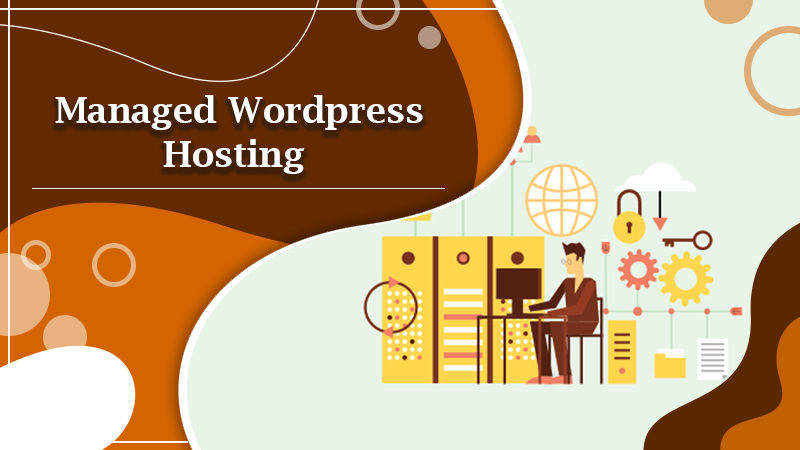 The Significance of Choosing Managed WordPress Hosting
Posted by
For a business to make its presence felt online, it has to effectively carry out various things, from marketing to hosting, advertising, and content creation. All of it can seem overwhelming and intimidating all at once. In such a scenario, choosing a managed WordPress hosting service can be one of the most crucial decisions pertaining to your website. It's a concierge service where the host takes every technical aspect of operating your WordPress website. It includes everything from the site speed, security, daily backups, scalability, and uptime. In this article, you'll find about the managed WP hosting in detail and the top hosting companies.
What is the Managed WordPress Hosting Service?
With the rising demand for WordPress, various web hosting providers have opted to specialize in WordPress and provide managed WordPress hosting. The main idea for the managed WP hosting package is to provide a streamlined experience to WordPress website owners so they can direct their attention more on running their business. A significant part of it is the premium support that you get from real WordPress professionals who have a wealth of experience.
Plans for managed WordPress hosting conversion usually range from $25 to $150 a month or more than that based on your website size and requirement. Some prevalent managed WP hosts include Kinsta, Flywheel, Media Temple, Pagely, and Pressable. Managed WP hosting is regarded as a great investment by small to medium businesses as it saves them time labor, and typically imparts better performance as it's tailored for the CMS.
A Comparison of Top Managed WordPress Hosting Services
Given below are some of the best-managed WordPress hosting services. They have been compared based on their performance and reliability. Also, their performance during peak traffic is also considered in the comparison. Lastly, all of these have also been compared according to their server response times across various geographical locations like London, the United States, Singapore, Japan, India, Sao, Paulo, and Sydney. It helps determine the ideal service for a particular geographical location.
SiteGround
SiteGround provides a distinct in-house performance optimization and is always the first recommendation when it comes to a secure WordPress hosting provider. A site on their server loads in less than a moment for servers in Texas and Dallas. It is a fantastic load time. A load impact test on these hosting company servers shows that SiteGround performs optimally even when it's under peak traffic. It can manage increased requests from several connections at a single time.
A highly detailed response time test shows that the SiteGround server performs exceptionally well in the United States and also responds in a second's time for various locations like Singapore, Sau Paulo, Bangalore, Sydney, Canada, Japan, and Germany. The SiteGround's servers are speedy, and customer support is readily available 24/7.
Some of the perks of this managed WP platform include the following:
Exceptional uptime, free SSL, and a high speed.
Superfast PHP. Various in-built performance enhancements are present in its GoGeek and GrowBig plans that are perfect for eCommerce websites.
You also have the option to get their free site migration tool.
Free CDN in partnership with SSH+ WP CLI integration and free-of-cost email accounts on all of its plans are available.
The only downside of SiteGround is that its advanced functionalities like staging, ultra-fast PHP, and wide-label client panels can be availed at only very higher plans.
WP Engine
It is a quick and reliable managed WordPress hosting service. There's a reason why it's one of the most prevalent managed hosts. It hosts your website on powerful servers that are a full proof of any hackers' attacks. It also provides outstanding WordPress support and hosting. Its chat support especially deserves mention. Thus, it's ideal for marketers and bloggers who require advanced technical help.
This managed hosting solution comprises daily automated backups, automatic updates, a free SSL certificate, and top-notch security. WP Engine also allows you to get the 35+ StudioPress themes and Genesis Framework completely free of cost. So, it's the perfect option for busy entrepreneurs who run an eCommerce store.
The server response time of WP Engine is just 1 to 2 million seconds in Canada, the U.S, Germany, Australia, and South America. Some advantages of this managed hosting service include:
Single click staging environment and support for adding CDN service.
LargeFS for huge media storage.
Real-time analytics and page-level reporting.
Innumerable add-on services that let you customize your hosting plan.
Dynamic and user-friendly custom hosting control panel with outstanding customer support.
The only drawback of WP Engine is that the user can find the prices of its advanced plans a bit on the higher side.
Bluehost
It is the world's most famous secure WordPress hosting platform that WordPress officially recommends. Bluehost offers multiple services comprising managed, shared, and dedicated hosting for a WordPress website. It also provides free site migration. So, if you have an existing WordPress website, you can move it to their platform. It has 20 GB of web storage, regularly scheduled backups, free SSL encryption, malware identification, and removal services as well.
The response time of Bluehost-managed servers is exceptional, especially in the United States and Canada. The response time is slowest in Asia. It is a single second in all other places like Singapore, Sau Paolo, Germany, Japan, Sydney, and Mumbai. Some great features of Bluehost include the following:
The service takes care of everything, right from enhanced cPanel.
You can access more than a hundred free WordPress themes.
Users receive an optimized WordPress installation experience because of the in-built tools for SEO and eCommerce websites.
There's a single-click WordPress website launch.
Jetpack website analysis.
Marketing center to find traffic and social media.
There's only a single disadvantage of Bluehost. It's that sometimes, it can give slow support
DreamHost
DreamHost provides a shared, dedicated, WPS, and managed WordPress hosting plan, which is DreamPress. A speed test on the DreamHost server shows that the site loads in under a second for a server in New York. It also performs consistently under huge traffic. A response time test shows that the server response time is below half a second for all locations. It's especially good in the United States. DreamHost is an ideal managed WordPress service for the following reasons.
It's an ultra-fast hosting service.
Every one of its plans has free SSL, a custom control panel, and SSD storage.
It's also simple to scale and appropriate for different budgets.
There's a single drawback of DreamHost. Its that you can find staging site present only with the advanced plan.
DreamPress
It's a managed WP hosting service from DreamHost that's a renowned web host. WordPress.org also suggests this hosting service. With DreamPress, users can get automatic updates, a custom dashboard, one-click installation, and free SSDs. It also provides massive bandwidth and space.
But the most significant thing that was found in its speed test was the time difference between the eastern and western U.S. It gives the slowest U.S based time. However, the response time is only under a second for all other locations. Some great features of this hosting provider are:
WordPress website builder.
Unmetered bandwidth.
Automated daily backups.
It comes pre-installed with an SSL certificate.
1-click staging environments.
Why Should You Pick Managed WordPress Hosting?
Managed WordPress hosting frees business owners from managing different aspects of their websites. They can direct all their efforts in growing their business. Some key reasons you should choose good WordPress hosting services are given below.
Get top-notch support
It's hands down the number one reason you should be choosing managed to host in WordPress. Managed hosting providers deal solely with the WordPress framework. It inevitably makes the support teams the experts in this area. The support team professionals are WordPress developers and Linux engineers, who contribute immensely to WordPress Core and various other open-source projects. The support teams have the expertise to resolve every kind of problem. So, website owners don't need to bounce between different reps and waste their time.
Get the benefit of high performance.
The environment of a managed hosting provider is perfectly suited to work with WordPress. The hosts tailor the environment to ensure that WordPress operates as speedily as possible. It is not the case when you choose a shared host. With them, you'll need much time installing the software and optimizing it to get the speed level that a managed host provides.
For most people, performance/uptime is the quality they value the most in a managed WordPress hosting provider. Many managed WordPress hosts implement full-page caching or server-level caching. It means that the entire cache is managed by them. You don't need to get bothered about determining the quickest caching plugin because you won't require one. It can save much of your time as selecting a suitable caching plugin is a complex job.
Managed WordPress hosts also offer you the most current and advanced technology and architecture. It includes employing the current versions of MariaDB, PHP 7, and NGINX, all of which are the fastest combinations for WP.
Easy to set up a staging site and local environments
You must be familiar with the golden rule of never editing your production website. It is crucial to make tiny changes in a staging environment. The WordPress staging area is your website's copy in a development environment. Thus, it's a good place to experiment safely before releasing changes to production. It's also an excellent addition to the workflow of a site owner.
Many managed WordPress hosts include a staging site or provide it as an extra add-on. Usually, you'll only be required to make a few clicks to set it up and make changes live.
Similarly, a local environment is another component of the development workflow that enables site owners to make significant site updates. Managed hosting providers are well aware of the ideal development workflow consisting of developing the site in a local environment, pushing it to the staging site to test, and then to production when you are about to go live. They provide you with the necessary tools to follow the workflow and collaborate well with your teammates and clients.
No fear of losing data with automatic backups
The thought of losing all their data is something that haunts many businesses. To always be prepared for the worst-case situation, you should have backups of your WP site. With shared hosts, you can find backups but at higher-cost plans. With VPS, you have to set up your specific backup systems and VPS snapshots, which increases the total costs. A high-quality managed WP provider gives automatic backups for no extra fee. You can find backups at any time and take manual backups with a button click. This feature is quite beneficial when you are installing something new and desire to ensure that nothing breaks.
When you have many choices for your WordPress backups, it can save you a ton of time. You'll also prevent yourself from messing up with backup plugins, FTP, cPanel, or phpMyAdmin.
The benefit of robust security.
Even if your website has never been a victim of a hacking attack, security should still be one of your top priorities. With a managed WordPress host, you can leverage the benefits of built-in security enhancements. Many such hosting providers give nightly backups of your websites which you can restore easily if a problem occurs.
Besides backups, the servers of managed hosts are optimized for WP security. So, you don't need to worry about security plugins again. You can also find functionalities like two-factor authentication, strong password enforcement, and limited login attempts. Another great security functionality that a managed host provides is that of removing malware. In the unfortunate event of the website getting hacked, the support team of a managed WordPress host can assist you in cleaning it up.
Easy to scale
Scalability is a significant aspect of any managed WordPress host. With a shared host, you will reach a point when you are compelled to migrate to a specific server as your business grows. This task is quite time-consuming. But with managed WordPress hosting, all these issues will be handled by the providers. If you go over their pre-set limits by chance, you'll get notified, and if needed, you can upgrade with a single click.
Some managed WordPress hosts scale your site automatically because they use Google compute engine servers. They can allow the site's container scale to any number of CPUs that are needed at times of traffic surge. They also have a dedicated server solution for websites with a considerable level of un-cacheable activity or tremendous traffic surges. It permits the PHP workers to be scaled over the boundaries of the normal plans.
Gain access to development tools.
With a managed WP host, you can gain easy access to common developer tools. Some providers use cPanel, while others have their own custom dashboard to make the user's experience even better. It doesn't matter whether you wish to see the slow error logs of your site or flush the cache manually. You can access all these tools with a managed WordPress host. With their help, you can easily perform the useful actions given below.
Flushing the cache.
Switch on wp_cache
Toggle development mode
Export logs
Access SFTP
Switch on wp_debug.
Manage the database.
Say goodbye to plugins.
When you work with a well-managed WordPress host, they take due care of primary site optimizations for you. It implies that you don't have to worry about a series of plugins that you relied on before. Although plugins aren't problematic, it's best to utilize a few of them as possible. It will allow you to see better site performance. You can also stay abreast of the plugin updates when you have fewer of them. When you decide to host your website on a managed WordPress host, you can confidently deactivate the following plugins.
Backup plugins
Security plugins
Caching plugins
Performance plugins
What to Consider in a Managed WordPress Hosting Platform?
When you are searching for the best-managed WordPress hosting, there are some points you should consider. Some questions to ask are as follows.
Does the managed hosting provider offer good speed, dependability, and security?
Will you get a free SSL and Content Delivery Network?
Will the provider carry out daily backups of your WordPress website?
Does the hosting provider have an exceptional team for providing support services?
These questions will help you find out the best-managed WordPress hosting platform for your site.
Final Words
If you are experiencing an inconsistent or slow website performance or frequent downtime, it's bests to switch to a managed WordPress hosting provider. Although it may be a little pricy, its various advantages undoubtedly make it an investment. It will free you from the hassles of web hosting, so you can concentrate more on growing your business.
Tagged with:
managed wordpress hosting
managed wordpress hosting conversion
managed wp
secure wordpress hosting