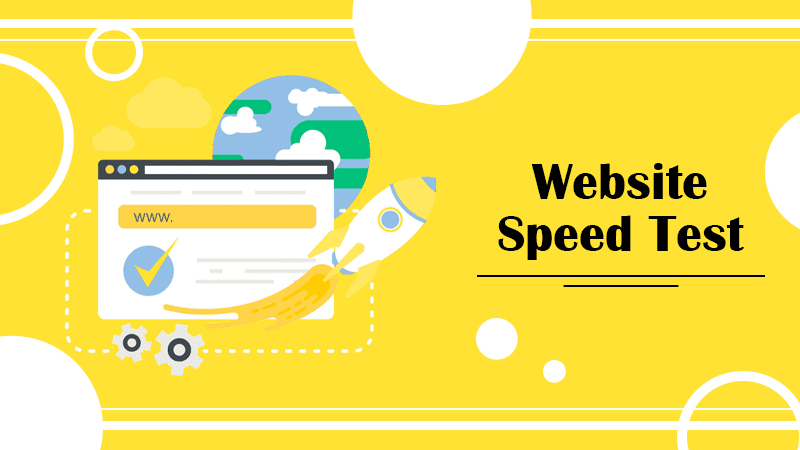 How To Check WordPress Website Performance Via Website Speed Test?
Posted by
Identifying the loading ability of your WordPress website is a crucial parameter for securing a top rank in Google search. However, it won't be possible to check your site's speed without using the top-notch Website Speed Test tools. When you run such type of tool, you will be able to analyze your site performance. As soon as you view, compare, and test how your site performs, you can enhance the operation of the site. It's even though, the fact that visitors don't take any interest in opening your site if it takes the slightest delay. Your visitors would like to get back to the Google Search page and start searching again for another website. In the whole scenario, the WordPress Speed Test utility tool plays a vital role. Just feast your eyes on this post to learn how to test page speed and improve it.
Perks Of Running The Best Website Speed Test Tool
You can have numerous prerequisites benefits when you avail the Best Website Speed Test. Let's have a brief glimpse of the list of advantages to knowing why a website loading speed matters.
Consume More Clients: Many more users nowadays prefer using Mobile phones either for accessing a specific website or surfing the internet. Thus, the rate is also needed for loading the site from a mobile device. When the site opens with fluency even without hindrance will let you gain more clients.
Develop User's Experience: WordPress website having a complex page code could result in slower loading. Leave immense sites aside and get on with optimizing your site's code. It's the surety that you can significantly improve the performance of your site and hence the moderate number of users get interacted with your site.  
Keep Hold On Users For Long Period: Grabbing customers' attention is not only sufficient to obtain top rank on Google. It's also required to bring your customers to be retained. As long as they get linked to your business website, you will achieve more success. Note that if your site loads quickly and efficiently, the chances of the user exiting from that specified resource are reduced.
Make Limitless Conversations: The faster your WordPress Website loads, the more conversions you can make from buyers. Your consumers will connect with your site as they don't experience viewing the page.
SEO Achievement: Page speed really matters a lot for SEO rank. It can affect the ranking of the site if you don't implement an SEO guide properly and professionally. Link building and constantly checking out the performance of the website through the Website Speed Test enhance the SEO rank, for sure.
Ways To Check WordPress Website Performance Via Website Speed Test
Let's get detailed intuitive information about site loading speed and the size with a Website Speed Test tool. We've compiled the most relevant speed test tools that will proffer useful tips on how you can speed up your site's pages. Furthermore, you will also be able to identify the mistakes and fix them all in a minute. Hence, let's begin testing page speed using one of the following noted tools.
Website Speed Test Tool 1: Pingdom
Pingdom is been considering the most popular website performance monitoring tool, prominent for its Free Website Speed Test. It's quite easy to use, so there is no need of having an understanding piece of strategy and desired skill. It enables you to opt for various geographical locations to run a test page that is really at your fingertips.
All of your site's requests will be displayed in a waterfall view with an easy-to-understand overview. Moreover, the detailed report will appear in the least time interval. You will get performance achievement suggestions at the top and individual resources as they loaded. Hence, for the newbie, Pingdom would be a great option to start managing the site operation.
Website Speed Test Tool 2: Google PageSpeed Insights
Google PageSpeed Insights is a top-grade web performance monitoring tool created by Google. Google considers Page Speed an important ranking factor for SEO. It instantly gives you website performance reports for both mobile and desktop devices. Thus, measuring the performance of a page with the use of this Free Mobile Website Speed Test tool will become easy.
Furthermore, you will get detailed recommendations for each glitch that you encounter that would be helpful for developers. However, the tool itself is a bit nerve-racking for beginners and non-tech persons. So, utilize it only if you are adroit or have skillful knowledge.
Website Speed Test Tool 3: Google Mobile Website Speed Test
People are more likely to leave a site instead of continuing to run it if it isn't mobile-friendly. That's why; Google has recently launched its own tool named Mobile Website Speed Test. This tool is actually powered by Google PageSpeed Insights, and its main aim is to cater to easy-to-understand optimization reports.
You will instantly obtain reports that were sent directly to your email or will be applicable to forward the information to your web developer. Free to use this amazing tool!
Website Speed Test Tool 4: WebPageTest
A WebPageTest is another finest online Website Speed Test tool that can be used without paying a single penny as it is a free tool. It is a bit more developed and sophisticated than some other tools. However, by using this tool, you can frequently choose a browser and geographical location for your site speed tests.
By default, it runs the test thrice simultaneously to give you a final result of your website speed. A detailed view of each test result will be shown, so you just have to click to expand and view the full report.
Website Speed Test Tool 5: GTmetrix
GTmetrix is another powerful web speed analyzing tool. It is easy to operate and generally allows you to test your website using popular tools like PageSpeed and YSlow. By simply creating an account, you can modify your geographic location and web browser as per your convenience and preference.
It usually illustrates the detailed reports with a brief summary of the test page results. You can even switch between the two tools and view recommendations. Just tapping on each recommendation will endow with more details to you. Hence, this is the one-stop WordPress Website Speed Test tool for all your desired speed optimizations necessities.
Thus, feel free to use any of the above-stated Website Speed Test tools in order to check the speed of your WordPress website. Furthermore, after analyzing the site performance, speed up the site loading capacity if it is required.
Ultimate Tips To Speed Up Your WordPress Website
Here are a couple of tips and techniques that will aid you to boost your site performance. Let's have a look:
Tips 1: Optimize Web Fonts
Reducing the traffic size of fonts on your WordPress website would always be prolific in terms of enhancing page loading speed. To reduce the font size, use WOFF2 for modern browsers. It is our advice to use only well-known formats, Latin and Cyrillic. Whenever a font file is ready to download, your browser will notify you. The font-display feature provides a suitable way to control browser behavior if the file gets slightly delayed in opening.
Tips 2: Optimizing Images
Loading large images can affect the site performance and lead to be run much slower. In such a scenario, you are required to run special programs in order to reduce the size of the uploaded picture. Make sure, the quality of the picture has not become low while compressing or even your users do not notice the difference. Hence, make your site pages load as quickly as possible simply by reducing the size of images on your site's pages.
Tips 3: Data Compression
It's very clearly said above that your webpage code should be as uncomplicated and optimized as possible. Thus, remove unwieldy constructions, and replace them with simpler versions. Just keep in your mind that compressing your site's data will definitely speed up the resource without even losing your potential customers. Try an effort to use static compression as by doing this the server provides an updated compressed version for your site.
Final Thoughts For Website Speed Test
Probably, with the aforesaid guide, you better understand how to properly speed test your WordPress site and gauge its performance effectively. I hope you now know how much it is important to determine speed through the Website Speed Test tools to have a successful website. The faster your website would be, the better your chances of getting success in your online business.
Therefore, if a lightning-quick website is your priority, make sure you're using one of the given tools to repeatedly measure your speed optimization strategy.
Tagged with:
Best Website Speed Test
Free Mobile Website Speed Test
website speed test