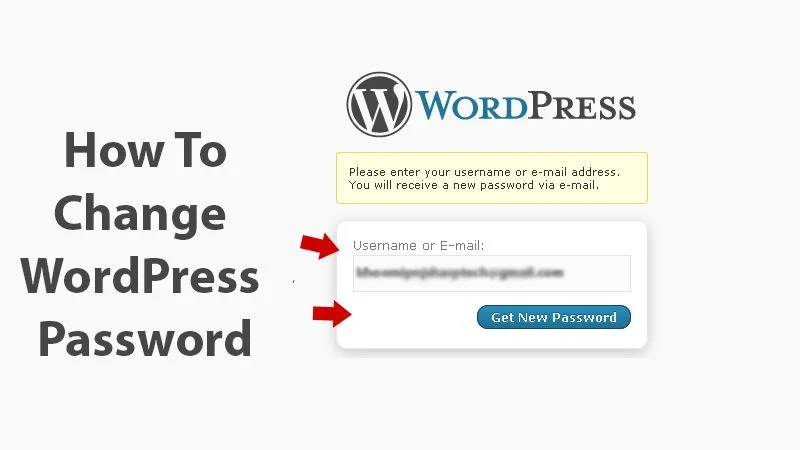 How To Change WordPress Password In The Easiest Way?
Posted by
WordPress is the open-source Content Management System perfect for producing dynamic websites. This is the ultimate, powerful, famous, and customizable platform where one can frequently create a free website or build a blog. However, it is required to first create an account at WordPress.org using the correct username or email address. When you log in to your WordPress account, then only you will be able to avail of its functionalities and features. But do you ever think about what will happen when you forget the WordPress Password? You will be prevented from accessing your website. In such a situation, it is urgent to know How To Change WordPress Password. If you are unable to reset your password, don't worry! In this guide, we will walk you through different simple and easy directives so you can quickly change your password.
Why Need To Change/Reset WordPress Password?
There are several scenarios to take a quick decision for Change/Reset WordPress Password. The list is noted underneath:
For safety and security purposes.
At the time of losing your password.
Someone may have figured out your current password.
When you would like to have full control over your website.
You just forgot your password.
If you end up in any of these above situations, don't freak out! Luckily, WordPress makes it super easy to Reset WordPress Admin Password. In fact, changing the password is not as tricky and painful as you think. Even if having little technical knowledge, you can also flawlessly recover your lost password. After all, it's all about keeping your account secure and protective against intruders.
How To Reset WordPress Admin Password?
In 3-simple techniques, you can Change WordPress Admin Password. Here are:
With the use of your email id associated with your WordPress account.
Via logging into your dashboard.
You can even though reset your password in the database if you don't have access to your email or dashboard.
Different Fruitful Methods To Change WordPress Password
In the below section, we have gathered several effective guidelines to reset a WordPress lost password. So, there is no need to be worried anymore if you Forgot WordPress Admin Password. You can get it back soon using the 3-different trouble-free and effortless techniques. So, here you go
Method 1: Reset Your WordPress Admin Password Via Email
Every WordPress website has its own login screen where you need to enter your login credentials (username and password). This confirms that you're the registered user of your site. So, if you lost the password, you won't be able to access your site. Here are the required steps for changing your password. Let's follow one by one:
First and foremost, open your WordPress login page.
Thereafter, give a single tap on the "Lost your password?" link right below the login page.
In the next step, you need to enter either your Username or E-mail Address in the given field. Make sure you using the email that is linked with your WordPress account.
After entering it, place a single click on the "Get New Password" button.
After doing so, you will receive an email with the subject [WordPress Site] Password Reset. In the body part of this email, you will see a password reset link where you have to click on it.
Now, type the password in the "New Password" field. Although, the password is case-sensitive, so make sure this time you make a password with the combination of an alpha-numeric key.
Once you enter your strong password, place a click on the "Reset Password" tab.
A confirmation message "Your password has been reset. Log in" will pop up on your screen.
You can click on the "Log in" link and hence enter the login to your WordPress account using the current password.
Method 2: Reset Your WordPress Admin Password From Dashboard
If you don't remember the E-mail that you have used at the time of WordPress account creation, then don't worry! There is still a way to Change WordPress Password. Logging directly into your WordPress dashboard will let you recover your lost or forgotten password. Here's how:
In the very beginning step, go to your WordPress dashboard.
Now, navigate to the "Users" > "Your Profile" tab. This section includes all the information related to your account. It is from your full name to your username, email, and even your profile picture as well.
Now, go to the "Account Management" section and then scroll down until you find the "New Password" tab. Once you see this option, just right of it you will see a "Generate Password" button. Place a single tap on it.
When you do that, WordPress will automatically create a password for you. Well, if you want to create a unique password, then simply click on the field and start typing your new password. Make sure you use the combination of capital letters, numbers, and symbols while creating your new password.
Once you have successfully changed your password, scroll down the page to reach the "Update Profile" tab. Click on this blue button to finally save your changes.
Great! Your password has been changed. Now, you can start accessing your WordPress site without any disruption.
Method 3: Change Your WordPress Admin Password Via phpMyAdmin
If you are unable to access both your email and dashboard, don't panic! In the following guide, we'll teach you How To Reset WordPress Admin Password. There is still a chance to change your password directly in your site's database. While, whenever you make any changes in WordPress, the information will be stored in your site's database. Thus, within that database, you can find every single value on your site even the password for your account.
However, if you change the wrong value, your WordPress website may get corrupted or damaged. That's why; it is always recommended you backup your database before making any database modifications. Go through the provided instructions to learn what you should perform
Ways To Backup Your Site's Database:
First, log in to cPanel.
Next, go to the "Database" section. There are several options related to databases available. But the productive one is phpMyAdmin. It is a powerful tool that allows you to view your databases and collaborate with them using a simple interface. Thus, you are suggested to place a single tap on the "phpMyAdmin" tab.
When you access this tool you can see all your databases enumerated on the left side of the screen.
Now, check out the top of the screen for the "Export" tab and give a click on it.
In that section, you can export your database's contents as a single SQL file. To do this, click on the "Quick" option and press the "Go" button.
After doing so, phpMyAdmin will download a file to your system. Store it at a safe place where you can always remember. However, backup can save your site from being damaged even after editing the wrong value while making changes to your database.
Ways To Reset Password:
First, return to the "Structure" tab which is at the top of the screen.
Afterward, click on the name of your WordPress database.
Now, from your database's tables select the "wp_users" option.
Click on the "Edit wp user" button beside your WordPress admin user.
Now, encrypt your new password by clicking on the "Function" tab and selecting the "MD5" option.
From the drop-down menu select "md5" in the "user_pass" field, type your password in the "New Password" field.
Finally, click on the "Go" button to the lower right corner of the screen.
The phpMyAdmin is a successful tool of WordPress Change Admin Password. You can now see a success message from phpMyAdmin stating that the database record was updated.
Conclusion
I hope you get the answer to the question 'How To Change WordPress Password'. If you face technical glitches while changing or resetting your WordPress password, feel free to dial the WordPress Support Phone Number. We have tech specialists who will lend you a hand to sort out your problem. Most importantly we are active all day all night so that we can assist you according to your need. Thus, make a call to us anytime and get a handy solution at your doorstep.
Tagged with:
Forgot WordPress Admin Password
How To Change WordPress Password
How To Reset WordPress Admin Password
Reset WordPress Admin Password
WordPress Change Admin Password