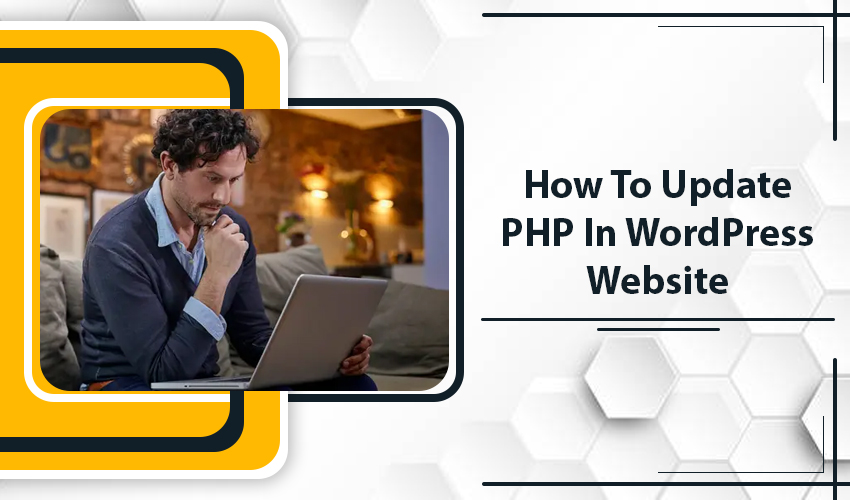 How To Update PHP In WordPress Website?
Posted by
WordPress is the leading software that has made the creation of online business sites fairly easy and smooth. Without even having much technical knowledge and coding skills, one can create his/her site using WordPress. At the same time, securing your newly created WordPress website is also extensively important. In order to run the site faster and make it more protective against intruders, you have to update the PHP version today. For you, we have gathered an intensive idea and proactive guidelines on How To Update PHP In WordPress. Just feast your eyes on the blog post and let's get started.
Why It's Essential To Update The PHP Version In WordPress Website?
There are a couple of reasons for updating the WordPress PHP Version. They are listed beneath:
WordPress Website High-level Security
The Superbly great loading speed of your WordPress website
Secure Top SEO Rank in Google Search Results
Updating PHP enables your site to be running on the latest, fastest, and safest version. The upgraded version of PHP effectively helps in improving site performance, reducing memory usage, and overall enhancement of the site running process. However, there are several versions of PHP but updating the PHP with the latest released version is always been impactful. Generally, when it comes to operating a WordPress website, running PHP 7.4 or higher version is definitely recommended.
How To Identify Which PHP Version Is Being Used in WordPress Website?
Usually, WordPress hosts automatically Update PHP WordPress in the background. Sometimes, after updating, your WordPress website runs sluggishly or misbehaves just because of downloading an incompatible version of PHP. Thus, you are required to get back to the older PHP version until the plugin update fixes the compatibility issue. Checking the PHP version utilized by your web hosting provider on your site is quite easy. Here's how you can effortlessly locate the type of version, Give a glance!
First of all, log in to the admin account of your WordPress website.
Thereafter, go to the "Tools" menu and select the "Site Health" option.
Now, slightly scroll down your cursor to get the "Server" tab. Once you see this option, place an instant click on its drop-down arrow to expand the details.
Server Information including the PHP version accessed by your web host server is mentioned in that section.
Now, you will be able to see which PHP version your website is using.
After identifying the actual WordPress PHP Version, you can analyze whether it is compatible or not. Moreover, you can frequently update its version with the current released and supported one when the older version is used.
Prerequisites Before Updating PHP WordPress
Here are a few things you have to perform before attempting to update the WordPress PHP Version:
1. Backup Your WordPress Website
Before you Update WordPress PHP to its latest version, you are highly recommended to create a backup. Basically, there are two major factors for creating a backup of your WordPress site. They are:
WordPress themes and plugins are even though written in PHP and once you upgrade the PHP version, they can be badly scripted. Thereafter, there would be a chance of compatibility issues.
Something might go wrong while Updating PHP WordPress. Maybe the internet connection is lost during the updating process or any minor issues happen.
Thus, these problems will be prevented from running the site when you create a backup.
2. Update Plugins And Themes
There can be a chance of your installed plugins and themes are incompatible with the latest version of PHP. That's why; it is our suggestion to first update your WordPress plugins and themes to the latest versions. This can help you to get prevented from confronting this problem. The complete updating process of your Themes and Plugins is provided underneath. Have a glimpse:
First and forecast, try to log in to your WordPress dashboard using the correct credentials.
Thereafter, go to the "Dashboard" section and select the "Updates" tabs.
After doing so, all available updates will begin to install.
3. Check PHP Compatibility
Now that you have the upgraded version of plugins and themes installed. Next, what you are required to do is to test them using the PHP Compatibility Checker plugin. Here's how you can check the compatibility of your plugins/themes with PHP's latest version:
In your WordPress Dashboard account, go to the "Tools" menu.
Place a click on the "PHP Compatibility" tab.
Now, click on the bubble button to select the latest version of PHP.
Now, you can choose either of the following options to scan your plugins/themes:
Only scan active plugins and themes
 Scan all plugins and themes
Once you select the particular option as per your preference, click on the "Scan site" tab.
It scans and identifies any compatibility issues between your latest WordPress PHP Version and your plugins/themes.
If any problem is been detected, you may either let go of the plugin and search for an alternative one or contact the developer to fix the compatibility issue.
Now that you have glimpsed the benefits of Updating PHP WordPress to the latest version and have successfully backed up your website, let's have a look at How To Update PHP In WordPress.
Stepwise Instructions To Update PHP In WordPress Website
You are now all set to start updating the PHP version on your WordPress website. Beneath, we will show you how you can hassle-freely Update PHP In WordPress via cPanel. This is the generic Control Panel proffered by WordPress web hosts in order to time and again manage your site. Thus, let's have a glance at the below-noted steps and simultaneously go through each one:
First and foremost, log in to the Control Panel of your web hosting service provider.
Then, navigate to the "Software" section and give an instant click on the "Select PHP Version" tab.
Now, you will be landed on the "PHP Selector" window. There, you have to locate the PHP version that your website is using in WordPress.
Now, give a click on the current PHP version and then select the latest version from the drop-down menu.
In the end, click on the "Set as Current" link to get that selected version of PHP upgraded in your WordPress.
Finally, you are all done!
Your WordPress website is now fully secured and hence running fluently without any disruption.
Alternative Way To Update PHP In WordPress Website
Contacting Your Web Host Provider
It is not necessary that entire Control Panels are the same or have similar functionality. You might face difficulties while finding this option in order to WordPress Update PHP with the latest released version. So, if you can't find the Control Panel option on your WordPress Dashboard, feel free to contact your web hosting company. The team will either do it for you or provide fruitful instructions at your doorstep.
What To Do After You've Updated PHP Version in WordPress Website?
Once you're done with Updating The PHP Version, there's not much you have to carry. However, we strongly recommend you to check your website regularly to make sure that everything is working properly and smoothly.
You can browse your website from the front end and look for any obvious issues. If all seems to be functioning as it should, you can move on to the back end of your site.
What To Do If The PHP Update Breaks Your Site?
While it's not out of the blue, updating the PHP from the older version to the latest one, it could cause your site to break. That's why; it is always our suggestion to safely back up your site before updating your site's PHP.
Howsoever, if the update is leading your website to not running or loading as you expect, it could be due to a conflict of plugin or theme. If some of the functions on your plugins are scripted with the older version of PHP, such an issue occurs.
To annihilate this problematic error, you have to troubleshoot your plugins and themes that are being detected as the culprit. Here's what to do:
For Plugins, deactivate the entire installed plugins from your WordPress site and then check if your site works well. If it does, then it's confirmed that one of your plugins was really the culprit.
However, in order to recognize the specified faulty plugin, immediately start activating your plugins one at a time. Each time, check your site and make sure it is quick loading on the server and running fluently.
The plugin you activated just before your site goes down is the most likely culprit. Simply deactivate that plugin right now and sort for an alternative plugin. In the end, your website will work without any hindrance, for sure.
24/7 Online WordPress Support At A Reasonable Cost
Once you have successfully changed the WordPress PHP Version of your website, you can enjoy the higher speed, immensely security, and other advanced features that launch with the recent version. If, unfortunately, at some point in time, you come across any kind of technical errors during the update, don't be shy in contacting us. We have a talented and most dedicated professional WordPress support team to tackle your problem wisely and proactively. Simply, put a single ring at the given helpline number and stay tuned without any hesitation. The simple tips and tricks will be at your fingertips, it's guaranteed!
Tagged with:
How To Update PHP In WordPress
Updating PHP WordPress
WordPress PHP Version
WordPress Update PHP