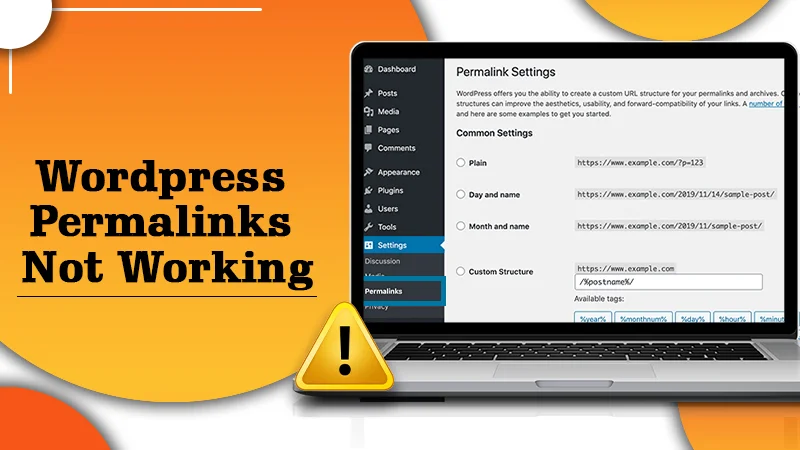 WordPress Permalinks Not Working | Find The Quick Fixes
Posted by
Do you often receive "404 Page Not Found "? error  Then you are probably facing issues with broken permalinks. In this article, we are going to discuss this WordPress error and will get you comprehensive solutions.
4 Reasons Why Permalinks Is Broken in WordPress
The most common issue with broken permalinks is 404: Not Found error when accessing a page on your website. This is where various causes may trigger broken permalinks on your website.
New plugin installation. Installation of new plugins may interfere with your .htaccesss file
Restoring a backup or migrating WordPress. When you restore, backup, or switch your site to a new domain or server.
Updates. Incompatibility errors after updating plugins, themes, or WordPress
Changes in .htaccess file.  Incorrection updation & alteration of you .htaccess file.
What makes Permalinks Important?
Permalinks are links to a specific web page, the URL structure of a permalink could have little significance at first glance. After a post URL, it offers less with the actual content of posts other than domain usage.
By default, WordPress will keep adding posts/pages using the post ID. However, website owners ensure feasibility for implementing custom permalinks with reference aspects of the WordPress posts themselves as part of the URL.
Especially if you're building a new site, forgoing the default permalink structure and creating a custom structure each time you create a new post will benefit your site.
Here are the major reasons why permalinks are essential to site's success
Site architecture
SEO Engine Optimization (SEO)
User experience
1. Site Architecture
It is very helpful in improving the overall architecture of the site. With article permalinks referencing the original content becoming easier with a WordPress-generated unique ID, this will be quite easy for a post simply by looking at its URL.
2. SEO
Permalinks are very useful for improving website SEO. It makes your site more SEO-friendly. It helps digital marketing experts in keyword research and competitor analysis to discover loopholes in the content. Optimizing permalinks is very helpful in boosting search engine rankings.
3. User Experience
A proper user experience can harness advantages from custom permalinks that translate to a better user experience. The visitors of the page on your site will have a convenient time to gauge the path to the home page. Hence, they'll be very handy for the exploration of the site.
Proven Steps to Fixing A Broken Permalink
1. Resetting Permalink Structure
 It is the simplest method to deal with the problem of resetting the permalink structure. If you want to execute this
Login to your WordPress Dashboard. Go to Settings > Permalinks.
Choose an alternative permalink structure -> Save Changes. For example, if you're currently using the Day and name settings. Change it to something like a Post name.
When you are through with the process, change it back to the standard structure and click on Hit Changes once again.
2. Disabling Plugins
Plugins often cause problems. Deactivating the latest installed or updated plugin may trigger the error. Removing the installed plugins together is also an option.
Go to Plugins menu in WordPress dashboard > Installed Plugins
Now click on the Deactivate button next to the plugin name
While finishing, reset the permalink structure using the previous method.
3. Modification in .htaccess File
If none of this resolves broken permalink issues (this can be associated with your .htaccess file configuration). Hence, you can start by replacing the current .htaccess file with the default WordPress. htaccess code.
Here, we'll be using Hostinger's File Manager
Go to hPanel > File Manager
Select your domain and Go to the File Manager.
Choose the .htaccess file in the public_html folder.
Press right-click and choose "Rename." Then, change the file name (e.g., .htaccess-error).
Go to the New File icon at the top of the page. Hence, don't forget to it .htaccess
Now paste the code into your new .htaccesss file.
Once you are through with the process, kindly press close.
Fix Permalinks And Experience A Fantastic WordPress Experience
I am very hopeful that this step-by-step WordPress support tutorial will fix broken permalinks on your WordPress website. If you have any queries, please leave your remarks in the comments section below.
Tagged with:
how to change permalink in wordpress
permalinks wordpress
wordpress permalinks
wordpress permalinks not working apache
wordpress post name permalinks not working