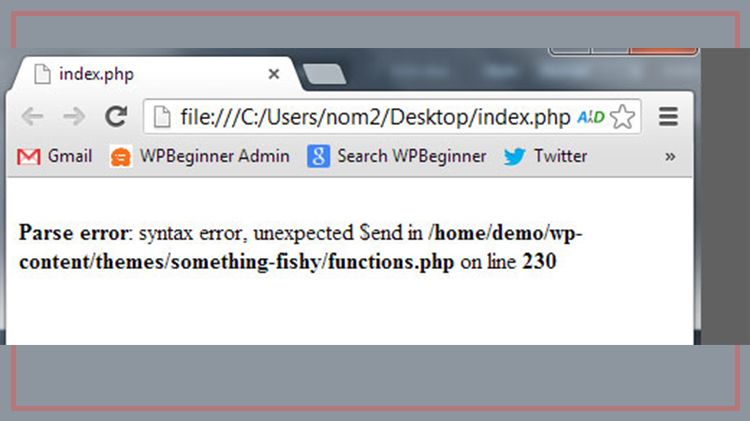 The WordPress Syntax Error is a very general problem that usually occurs, when any kind of mistake has been made by the user. When you make any certain changes in your WordPress site like edited codes with incorrect PHP syntax, updated existing theme, or any plugin files, then also you can face it. However, you are not the only person to receive the parse error in WordPress. There are many more who have reported the same problem. So, don't freak out! The blog-post teaches you the right way to sort it out. Read to learn!
Actual Reasons Behind Occurrence Of WordPress Syntax Error
The WordPress Syntax Error can be caused by one of the below-listed points:
Putting incorrect lines in PHP scripts.
Most of the time it happens due to incorrect coding structure.
Maybe the punctuations are missing or improperly used in the WordPress site.
Invalid variables and wrong function names may also lead to Syntax Error.
Either one of the following: Semicolons, curly brackets, or quotations are missing or not properly used in the PHP code.
You can see something like this on the home page of the WordPress website if there is the WordPress Syntax Error:
Parse error: syntax error, unexpected T_FUNCTION in /home/content/94/4245094/html/wp-content/plugins/my-calendar/my-calendar-styles.php on line 465.
Effectual Guidelines To Fix WordPress Syntax Error
Here are the guidelines that will help you out in quick-fixing the WordPress Syntax Error. Let's give a glance at the underneath provided steps and follow accordingly:
Guideline 1: Disable The New Plugin Or Theme
If the Syntax Error appears once you have recently installed new plugins or edited themes, there's the possibility that they're the ones causing the issue. More often this error doesn't allow you to log into WordPress. That's why we suggest you use File Transfer Protocol to remove the plugin or theme that you have just changed. Disabling all your plugins is one of the easiest feasible ways to get rid of the Syntax Error In WordPress.
An incorrect updating of a plugin is often the real cause of the Syntax error. If you still have access to your admin area, then simply go to "Plugins" to select the "Deactivate" tab from the action menu. Doing this will instantly disable all your plugins. If that solves the problem, great! You are good to go ahead with flawlessly accessing your WordPress site. If it doesn't work, jump to the next fixing guideline.
Guideline 2: Fix The Corrupted File From File Manager
Let's first identify the source of corrupted files and then fix them from the File Manager. Here is what you should perform:
First of all, open the "File Manager" option and then navigate to the folder in which the corrupted file is saved. The folder can easily be accessed by navigating to public_html > wp-content > themes > twenty seventeen in the given sequence. If you skip even one, you won't land on the exact file.
Afterward, place a double-tap on the corrupted file and locate the line that is creating trouble. First, launch the 'index.php' file and then edit the 72nd line.
Once you open that line, you can see a very important part is missing. Maybe a semicolon is missing or not used accurately.
In such a condition what you have to do is place the semicolon on the 72nd line as fast as you can.
Thereafter, click the "Save" button
Now, click "Close" and reload your site.
This time you will surely be able to access your site without any kind of interruption. However, in most cases, simply removing the line can also sometimes eradicate the Syntax Errors. For some instances, there is a comment that is missing and thus is being difficult to translate code. Hence, deleting the complete line will surely fix the error.
However, always be careful if you opt for the option to delete a single line as it may trigger another problem. A line that's responsible for computing a variable's value should not be deleted as later it is used.
How To Avoid The WordPress Syntax Error?
Avoiding the Syntax Errors is as easy as annihilating the error but only if you have at least a little bit of knowledge about the PHP. You only have to do is give a serious glimpse of the code for any syntax mistakes. You can check automatically by running it through a PHP code validator. Otherwise, you can check your codes before applying them to a website or converting them into a plugin. Some tips to avoid the most common syntax mistakes:
Make sure opening tag and closing tag is placed in each document
The extra code shouldn't be inserted in between a function
Dial 24/7 Online WordPress Support Number For Additional Help
We hope the aforementioned information has helped you in resolving the WordPress Syntax Error. If you still experience the same problem even after followed-up the fixing steps, put a single call at WordPress Support Number. We will help you with that as well without taking too much time of yours. We are experts in dealing with such types of technical errors. So, feel free to connect with us and get the handy solution at your doorstep.