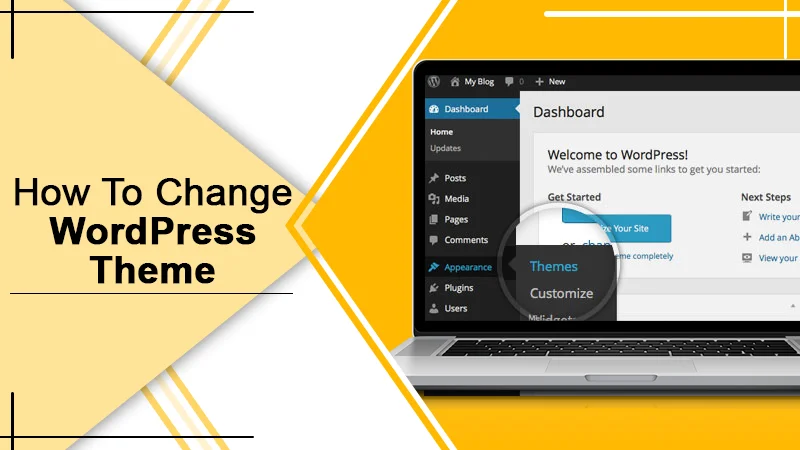 How To Change WordPress Theme? Get A User-friendly Guide
Posted by
Changing the WordPress theme in a well-professional manner would be like a piece of cake. So, if you ever think to modify the theme of your WordPress website, you can do it very safely. However, the whole process of switching themes without introducing any technical errors may take a bit longer than just clicking Activate button. It is also the truth that when you follow some basic procedures and walk through simple tricks, you can change the theme. It is understood that being a non-tech, this can be a daunting task. But, now no need to be worried about it. In the blog post, we will show you How To Change WordPress Theme for your site. Let's read it out to grab ultimate ideas!
Required Things To Perform Before Changing Themes In WordPress
Before attempting to Change WordPress Theme, it is always recommended to go through the checklist mentioned underneath. The following guidelines will prevent you from losing your important data during the process of changing the WordPress theme.  Let's give a glimpse over the points:
1. Copy Snippets From Current Theme
A couple of WordPress users are interested in customizing their WordPress site via adding code snippets to the functions.php file. However, after making changes in the file of the theme, mostly people usually forget about it. Thus, if you have made any changes in the file of your current theme, immediately note down all the previously added code. This will allow you to add that specific code later into your new theme's functions.php file.
2. Test Load Time
Before start performing WordPress Change Theme, you should check out the loading time of your website. By recognizing the particular time for your site loading you can effort-freely compare the differences and hence come to final conclusion. You can use the WordPress Speed Testing tool to check the speed of the website. It will easily let you inform at what time is taken for your website loading.
3. Always Remember The Tracking Code
Some users add their analytics tracking code directly to the file of their WordPress site's theme. Additionally, there are WordPress themes that permit you to add Adsense and Analytics code in their settings panel. Though, one of the major mistakes that many beginners make is misplacing these codes. Once you lost the code that you have recently changed, it would be quite difficult to recover. Therefore, we always suggest you first make a copy of all the tracking codes and save it at the safest place. So that whenever you need it, you can frequently use it in terms of Changing Themes In WordPress.
4. Create A Complete Backup
The next upcoming advice we would like to suggest you backup your posts, images, plugins, and of course the database. Only after making a full backup of your WordPress site you should start changing your themes. You can even though use a WordPress backup plugin to create the backup of your entire site. After making a complete backup, you can recover your website smoothly and quickly if anything goes wrong.
5. Keep Your Site on Maintenance Mode
It is always beneficial for you to put your site in maintenance mode whenever you make any changes. Use the SeedProd plugin as it is a prominent WordPress plugin and lets you create coming soon and maintenance mode. Hence, enable the maintenance mode effortlessly for your WebPages.
Proficient Directives To Install WordPress Theme
An immense number of free and paid WordPress themes are available to pick up for your site and add to look attractive. The fact is you probably wander to achieve a good theme for the requirements of your WordPress website. That's why, in the below section, we have listed effective WordPress themes only for you. Let's take a brief look:
1. Divi
Divi is one of the most popular WordPress themes in the world, which is powered by the drag and drop Divi Builder. With this, you can build any kind of website professionally. It covers 20+ pre-built layouts and 46 different content elements. Hence, you can customize each element of your site without putting much effort and notice the changes in the respective time.
2. Astra
Astra is a simple and great speed-optimized WordPress theme. It's extremely compatible with numerous page builder plugins such as Beaver Builder, Divi, and Visual Composer. It's however a translation and RTL-ready theme. This will let you start your website in any language and even create a multilingual website. Astra has the efficiency to easily get integrated with the WooCommerce plugin, so you can create an online store hassle-freely. Furthermore, you can potentially modify the header, footer, layout, and more using the WordPress Theme Customizer.
3. StudioPress
Genesis is the widely popular WordPress theme that has been structured by the StudioPress team. You can build astounding WordPress websites using the Genesis framework and other additional StudioPress themes. The best part is you'll get 35+ StudioPress themes completely free only by signing up for any WP Engine hosting plan.
4. OceanWP
OceanWP is an extensively approachable and multi-purpose WordPress theme. It provides multiple demo templates that have been built with different professions and businesses in mind. It is highly compatible with the major page builder plugins. You can also use different extensions to bring your site to the next utmost level.
5. Beaver Builder
Beaver Builder is the most selective drag and drop page builder plugins that allow producing eye-catching pages for your site. Even if you are having not enough coding skills, you can create a sensitive as well as a stunning page for your WordPress site. Beaver Builder is however very much compatible with almost every WordPress theme. Moreover, you can use it to create a custom WordPress theme without writing any code.
With the aforementioned info, you can analyze and make a final selection of a WordPress theme for your site. Once you've selected a theme, it is required to install it on your WordPress site. Install WordPress theme by using any of the following 3 methods:
Using the WordPress theme search option
Uploading a theme from your WordPress Dashboard
Installing a theme using FTP
Intensive Guidelines To Change Theme In WordPress
Most of you might be fed up and at the same time want to learn How To Change Theme In WordPress website. You have to install a new theme accurately as only then you will be ready to switch the themes. It is always recommended to examine the installed theme before attempting to modify it on your live website. There are generally two ultimate ways through which you can change a theme without going live. Here are they:
1. Live Preview Option
By default, WordPress allows you to preview a theme on your website before making any changes to it. To do that, follow the below-noted steps:
First, you have to open a WordPress site for which you would want to Change Theme In WordPress.
Now, head over Appearance » Themes from the left sidebar of your admin panel.
On that page, you can see all the installed themes on your site.
Slightly drag your mouse over the theme you want to preview and click the "Live Preview" button.
Doing this will open your new theme in the WordPress Theme Customizer. You can now analyze your new theme and make sure that it is compatible and everything is working fine.
2. Theme Switcha Plugin
Another option for smoothly Changing Themes In WordPress is to utilize the Theme Switcha plugin. It gives you permission to preview your new theme without any precise activation. Here's what to perform for the same:
First and forecast, you are extensively required to install and activate the Switcha free plugin.
Afterward, navigate to Settings » Theme Switcha from the left sidebar of your admin panel.
Now, from the Settings page, select the "Enable theme switching" option.
Thereafter, scroll to the bottom of the page to click the "Save Changes" button.
After doing so, the entire installed themes will be displayed at the bottom of this page.
Next, you have to click on your new theme to preview it on a new tab of your web browser.
Once you are confirmed that the selected theme is compatible with your site, you can make changes without any worry.
3. Required Steps To Change WordPress Theme On Live Site
Once you have tested your new theme in the finest way, it's time to start Changing Themes In WordPress. The process of switching the theme on your WordPress site is quite simple and straightforward. To do so:
Go to Appearance > Themes from the left sidebar of the WordPress admin panel.
Now, point the mouse cursor over the theme you want to use currently and then click on the "Activate" button.
When you put a tap on the Activate button, it will sooner change the WordPress theme.
In the end, you will have to visit the homepage of your website to check-out the new theme.
Step-by-step Procedures To Change WordPress Theme Manually
Sometimes a specific annoying error can prevent you from direct accessing your WordPress site. In that scenario, you won't be able to Change WordPress Theme until and unless you fix the issue that you confront. However, you can recover your website simply by restoring it from the backup of your site. You can even though troubleshoot the WordPress error that is creating the problem. Furthermore, if you don't have a backup, you can change the theme manually using phpMyAdmin.
Here's how:
First, you have to link to your website using an FTP client and browse the /wp-content/themes/ folder.
You can see all the themes that are recently installed on your website. You can however also install a WordPress theme via FTP if you don't see it.
Next, write down the folder name of the theme you want to use because you'll need it later.
Afterward, visit the cPanel of your WordPress hosting account.
On this page, you will need to scroll down to the Databases section to click on phpMyAdmin.
Now, a list of databases will appear on the left side of the screen. Simply click on the database that you are currently using for your WordPress site.
Next, it'll throw a list of tables in this database. You have to click on the "wp_options" table to open it.
Thereafter, click the "Edit" tab present in the "template" row. Doing this will open the editor.
Here, you will require changing the value in the "option_value" field to the theme name. It's usually the same as the folder name in "/wp-content/themes/ folder" that you have copied earlier.
Once you have completed this procedure, click the "Go" button to save the changes.
Now, repeat the same process for the "stylesheet" row.
After making successful changes to both the rows, you can go to your website to view the new theme. These are the comprehensive guidelines of How To Change Theme In WordPress for your website.
Contact Us For Further Help
Hopefully, we are able to make you understand How To Change WordPress Theme politely and efficiently. In case, you got stuck at any point while changing the theme for your website, feel free to connect with us. We are proficient enough to lend you a fruitful hand at your doorstep. Hence, dial the 24/7 WordPress  Support Number right now and get a one-stop support solution within a pinch.
Tagged with:
Change Theme In WordPress
Changing Themes In WordPress
How To Change Theme In WordPress
How To Change Theme WordPress
How To Change WordPress Theme
WordPress Change Theme