Know How To Fix Error 521 in 4 ways
Posted by
What is a 521 Cloudflare Error?
521 Cloudflare is an error that pops up when a Word Press site refuses to connect to Cloudflare. The error 521 occurs when the connection is initiated on the web server but the request is not completed. In this post, we'll learn the root cause of Error 521.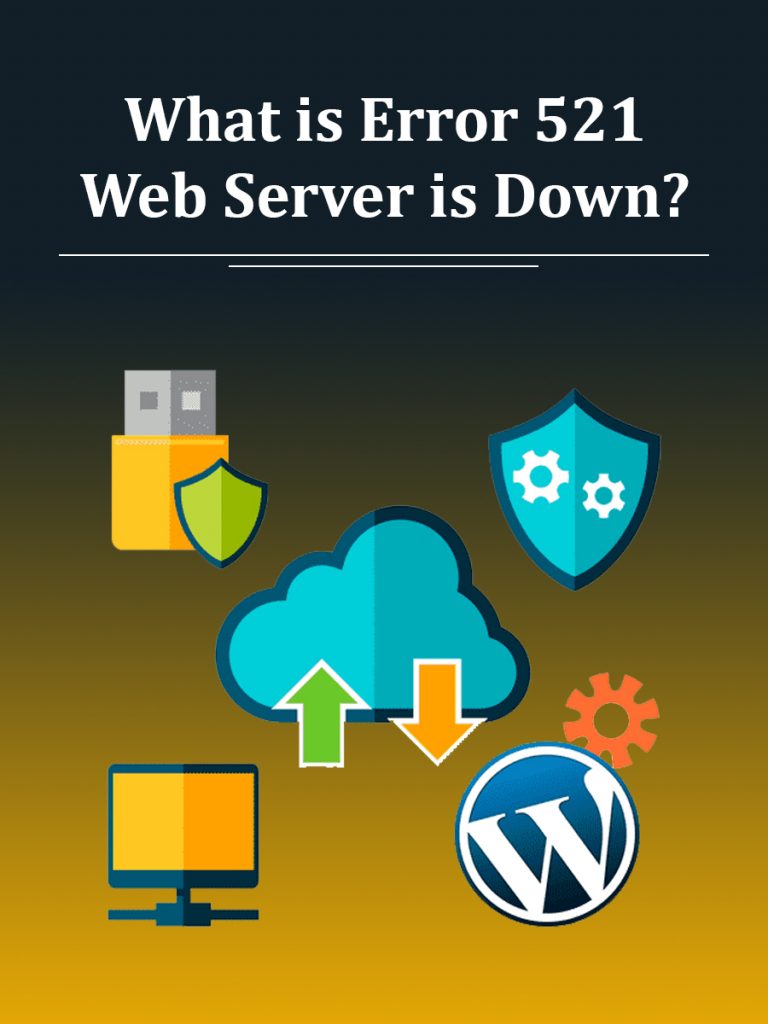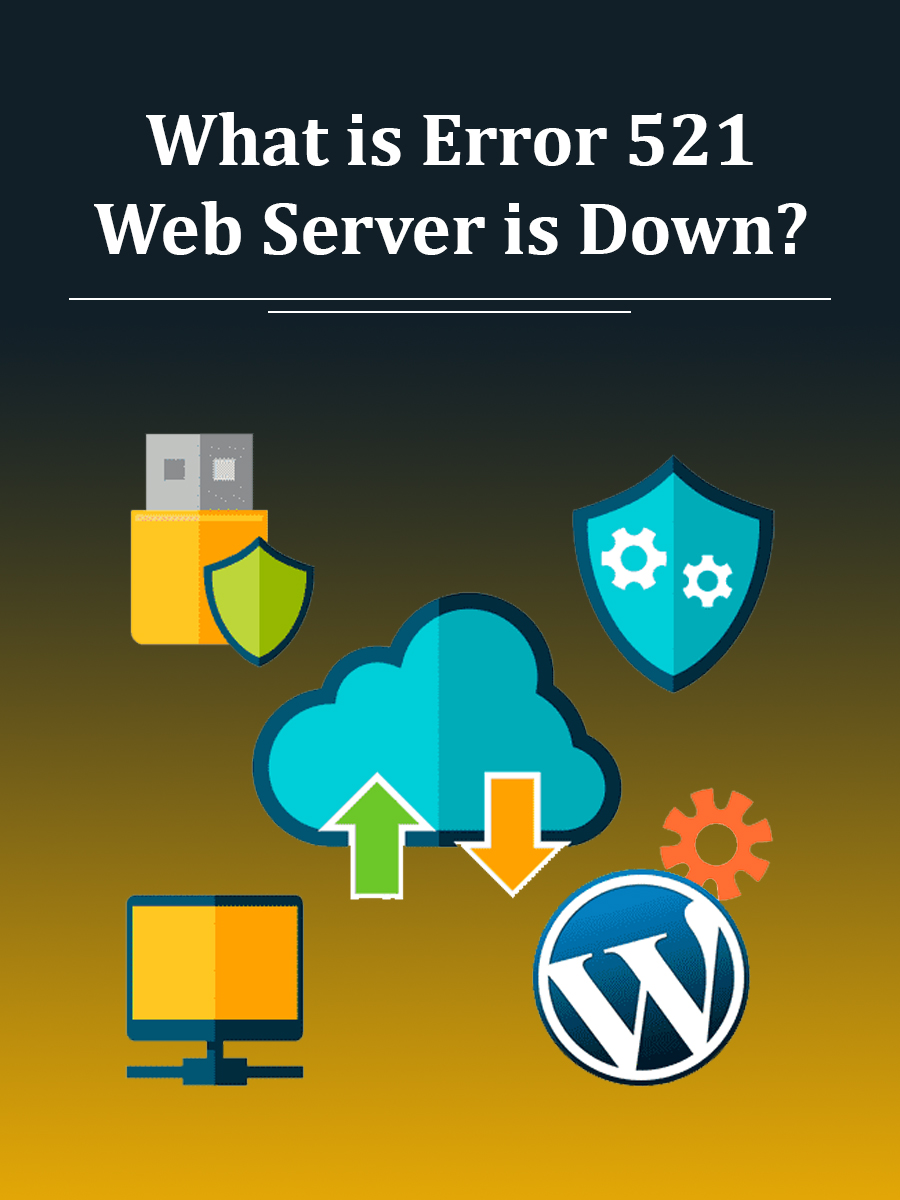 What is Error 521 Web Server Down?
Whenever you come across a 521 Web Server down message, there is a server-side issue with the website. It makes Cloudflare unable to connect to the WordPress site's server. Despite establishing a robust TCP connection to your origin server, you will experience a refused error in response.
And because of this, your site will not open to visitors and hence the error 521 will appear.
Suddenly, you realize you need to skip WordPress sites that don't connect with Cloudflare. Here we are covering some proactive steps to get vital information.
Cloudflare is a CDN (Content Delivery Network) that augments the security and performance of your website,  However, this setup often leads to error 521. We'll go further and see what this error means and the benefits of Cloudflare integration benefits you. ——— with zero hassles.
Note: You should understand that Error 521 is not meant for  Cloudflare and for the web server.
It implies when the request was directed to Cloudflare and when it would send a request to the server- making it difficult to connect. Often you see the error when the server is not responding.
If your WP website is not accepting Cloudflare's request, then you will encounter this error that could be either Cloudflare's or the server's fault.
What Causes the Error 521 Message?
The Content Delivery Network (CDN) Service speeds up websites by establishing a TCP (Transmission Control Protocol (TCP) connection to the site server after. When the web server doesn't permit Cloudflare's connection request, the browser will reflect a 521 message.
Here are some of the illustrations that convey the origin web server not returning a connection error include:
1. Server Is Down:
The error 521 usually occurs when the website server is down. It is, however, a possibility that Cloudflare won't connect if your WordPress website server is done. The down server could pose a bigger problem as it prevents the website from being accessed.
2. Security Software And Other Firewall Programs
The security software installed on your computer may be blocking Cloudflare's request, resulting in Error 521 Thus, the IP addresses of Cloudflare accidentally get blocked by firewalls or security programs. Hence, you may not be getting connected to the site's server.
Unless you succeed in connecting the website server to Cloudflare, the website won't experience traffic and rank higher at the top. Therefore, while understanding what Error 521 Web Server Down is and why it arises, let's know the quick fixes.
Since Cloudflare is a reverse proxy, all the traffic coming to your origin server will give the impression that it is coming from a small range of Cloudflare IPs (rather than each visitor's unique IP address). As a result, some security solutions will see high traffic from limited IP addresses as an attack and blocks them.
When that happens, Cloudflare won't connect and will display the Error 521 message instead.
3. Poor Encryption Settings
Cloudflare has its own SSL (Secure Socket Layer) certificate and encryption modes. Thus, the origin server might be blocking the request due to encryption settings.
4. Web Server Is Offline
If the hosting provider experiences downtime, the website will be unresponsive to Cloudflare requests. Moreover, this sort of error occurs when the origin web server process, such as Apache or NGINX, malfunctions.
How to Fix a 521 Error in 4 Easy Steps?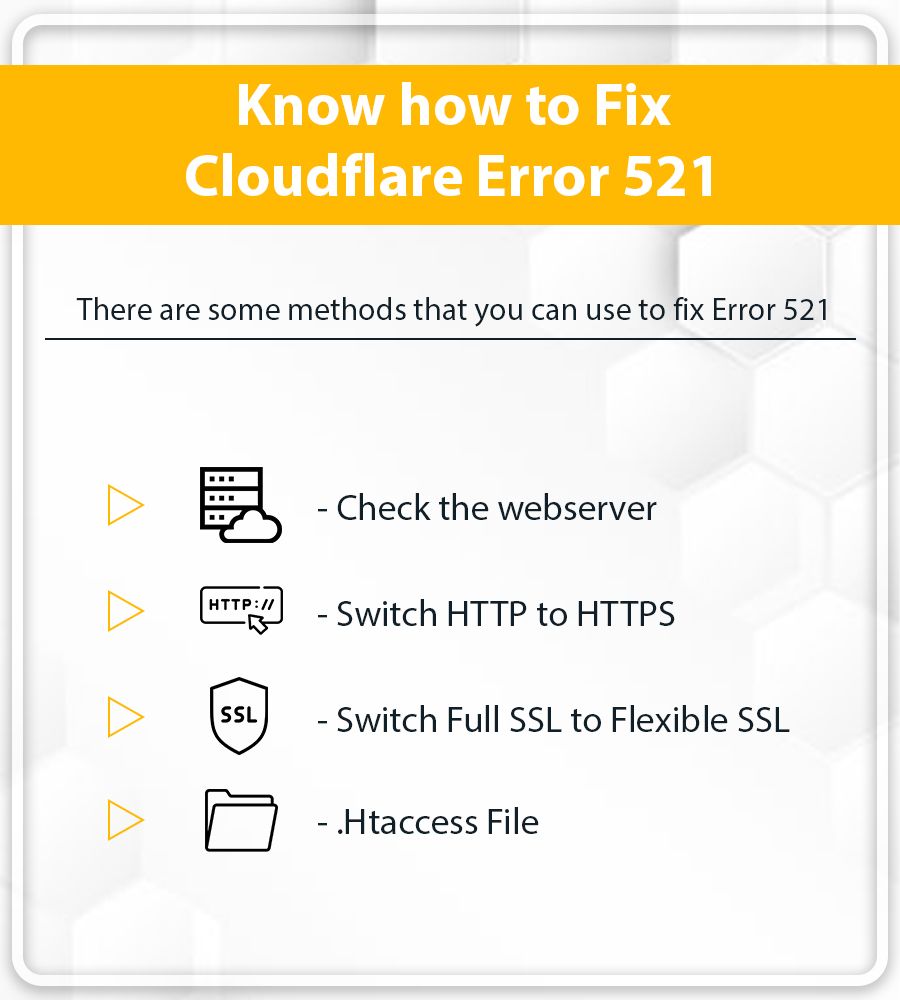 1. Check If Your Original Server is Running
To start this, you will be checking if the original server is up and running (hosting the WordPress website). If this is the case, check the server error logs to what is causing the issue. Possibly, because of the outage, this is causing the 521 error.  If you're still not able to execute the task, you can contact your hosting provider.
2. Check if the Hosting Provider isn't Chocking Or Blocking Cloudflare IP address and Requests
When experiencing a 521 error, it is possible that your hosting provider isn't performing up to the mark. That makes Cloudflare a reverse proxy.
" A reverse proxy works as a gateway between clients and your origin; therefore, clients can directly communicate with the proxy server." not the origin server.
It implies the original server will witness all the traffic coming from a Cloudflare IP address other than a unique individual server. The web server interprets these requests as attacks and blocks them. If you witness this thing, ask for Cloudflare's IP ranges.
3. Ensure the Cloudflare Connect to Port 443
If the Cloudflare SSL/TLS mode is set to full and you witness a 521 error, the original server may not be configured to allow Cloudflare to access a specific network port.
Cloudflare proxies traffic destined for a diverse range of HTTP/HTTPS ports. When set to full or full SSL/TLS mode, then the proxies traffic is destined for HTTPS port 443.
Eventually, if the Cloudflare proxy is not enabled for this network port, this may result in a 521 error.
4. Check If you have Installed a CloudFlare Origin Certificate
The SSL/TLS mode is set to full and the Cloudflare proxy is enabled for 443. Then you must check the Cloudflare Origin Certificate is issued by a publicly trusted certificate authority. Your origin server may be configured to allow  HTTPS connections on the port if you see a Cloudflare certificate. If it is not there, then it may cause the 521 error.
So, you must install a Cloudflare Origin Certificate on your server.
Conclusion
By following these steps, if the website is still showing Error 521: Web Server is down" that means the origin server is not responding to Cloudflare's request.  This error usually occurs due to the server's firewall or security software that blocks Cloudflare IPs.
Here are the four methods to fix this issue:
Check if your origin server is up and running
Hosting provider networks don't block Cloudflare IPs
Temporarily disable Cloudflare
Also, there are a few tips for the WordPress Support website that helps in troubleshooting error 521. However, don't hesitate to comment and share your experience with us.
Tagged with:
521 error
area code 521
cloudfare down
cloudflare down
cloudflare status
error 521
what is error 521