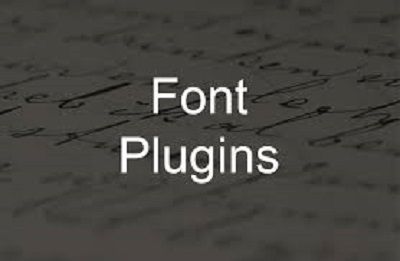 Updated List of Top 7 WordPress Font Plugins To Enhance User Experience
Posted by
Great to have you on WordPress! Now you can create an elegant-looking website, blog, or app. If you are done with a basic WordPress setup, then it's time to customize your website with WordPress font plugins. Here we have chosen the top 7 font plugins worth using in the year 2021 for your newly created WordPress site. 
Whether you own a business or planning to start a venture, being on the web is essential to grab maximum eyeballs in order to do sales. To fulfill those plans, one thing can help and that is the WEBSITE. Now you might drop the idea of saying it is too expensive as you will need to hire a developer to design the website.
Well, what about creating a website for free and beautifying it with a WordPress font plugin! Shocking indeed. Yes, now you yourself can create your website, for free (pay for a domain name) and customize it with a WordPress custom font plugin, in the end, making it unique and enhancing the user experience.
Not sure about which WP font plugin to use for your WordPress website? Don't worry! Here we have listed down the top 7 WordPress font plugins worth using for your website.
 Top 7 WordPress Font Plugins
Your selection of font plugin for WordPress depends on several factors like where. Do you want to use the plug-in and for what purpose? You can use these plugins for complicated things like using Latin or Greek text or just to tweak the font style. After learning the specifications of each of these top 7 WP font plugins. You will be mesmerized to know how much variation you can do in your website in order to give it a personal touch.
The first on our list is WP Cufon which is a special type of WordPress font plugin. That can only be used to force Cufon font on your WordPress content. Installation and set up of the Cufon font plugin is quite simple and once activated. You just have to upload the font files directly to the Cufon plugin's font directory. To activate the Cufon fonts you will need to visit the Admin Menu and select which elements of WordPress text need to be replaced with a wide variety of Cufon fonts.
However, it comes with a minor drawback as you will need to host the font files, hence adding to the bandwidth usage in case you own a high-volume traffic website. Another one could be you have to cross-check the fonts license to verify if it can be used on the web or not.
The second on our top 7 WP font plugins list is Fontific which allows the users to pick the available fonts from the Google Web Fonts library. In order to apply the Fontific plugin, you will need to install and activate it and determine the font rules under the Fonts Panel in the WP Appearance menu. Moreover, you can also preview the changes before saving them to check what your website will look like. Also, the Fontific WordPress font plugin has a user-friendly interface wherein you can easily adjust the font size or the line height.
Typekit is another font plugin that you can use on your WordPress website to make an impressive web presence. It is different from others with respect to the paid plans that it offers in exchange for access to a large font library. They also allow you to get a maximum number of pages. Typekit also provides free packages, but those have a limited number of fonts to choose from. After installing the Typekit plugin, the user needs to configure the selector and define CSS rules. It further allows complete access to elements such as font weight. An important thing to note is that Typekit plugin fonts are fully licensed and completely accessible.
If you are not so tech-savvy and looking out for some simple and easy-to-use plugin, then Fontdeck is a good option for you. With Fontdeck you can easily add custom fonts to your website including Fontdeck fonts. Moreover, it is highly capable to handle a site with high-volume traffic. The Fontdeck WordPress front plugin also has an option to use premium fonts by paying an extra amount, once activated, you can launch the project on Fontdeck's website and add fonts of your choice.
Not including WP Google fonts won't do justice to our top 7 list of WordPress font plugins. It is amongst the most popular plugins used by beginners and tech-savvy WordPress users. With this plugin, you can leverage free service from Google to add top-quality fonts to your WordPress website.
The next on our list is AGP font awesome. It comes with font icons with visual images. It helps you to integrate font awesome icons into your WordPress site or post. You can use some simple shortcodes or either you can use the visual constructor. AGP font awesome facilitates you to change a font color, background color, or even text to make it a highly user-friendly website.
WP Web fonts are a highly versatile WordPress font plugin and they can also work with Google Web Fonts. When you want to use this plug-in then you need to simply grab the font Google Web fonts website, copy the code, and paste it.  It is on the desired place on WP web fonts Page and then it can be further added to HTML and CSS. Despite all these positive elements, the WP Web Fonts come with some complications while executing, hence we generally do not recommend that novice user, who are not familiar with coding, use this font plugin.
Conclusion
Well, that was our recommendation for top WordPress Font plugins. Hope you have run through each one of them and got an idea of which one to use for your WordPress site or blog. If still you have any doubts regarding functionality and need more clarity on which one to choose, then we are here to help. You can connect with WordPress support and get the prompt resolution of your query.
Tagged with:
wordpress font plugin
WordPress Font Plugins