Choose the Best WordPress Video Gallery Plugin for Your Website
Posted by
Videos and marketing go pretty much hand-in-hand. In the past, there were conventional television commercials that have been largely substituted today by WordPress video galleries. Suffice to say that video is becoming an excellent tool for business owners to present their content in a captivating manner. A WordPress video gallery plugin enables you to develop the video gallery you desire while maintaining full control over how it feels and appears. In this article, you'll learn about some of the best video gallery plugins for WordPress and how they can benefit your site.
What Is the Importance of a WordPress Video Gallery Plugin?
Video as a media form has always appealed to people of all ages. That's why video blogs are so popular. They enable a brand to connect better with their target audience and market their content amid the highly competitive scenario. Although vibrant infographics and attractive images also boost the visual appeal, nothing makes up for an unforgettable user experience as a video.
In light of these facts, there are various ways by which WordPress video plugins can optimize the website. These include:
An excellent way to exchange your message with your target audience.
Better engagement.
More opportunity for in-person interaction.
The explanation of the unique selling points of a product becomes a lot smoother with these plugins.
So, it doesn't matter whether you are developing a personal blog or a website for showcasing your products. A relevant WordPress video gallery plugin will enable you to modify and publish your videos without any problem.
The Best WordPress Video Gallery Plugin for Users to Explore
Now it's easy to create stunning video galleries and capture your visitor's attention. Given below are the most effective WP video plugins to use.
1. Smash Balloon YouTube Feed Pro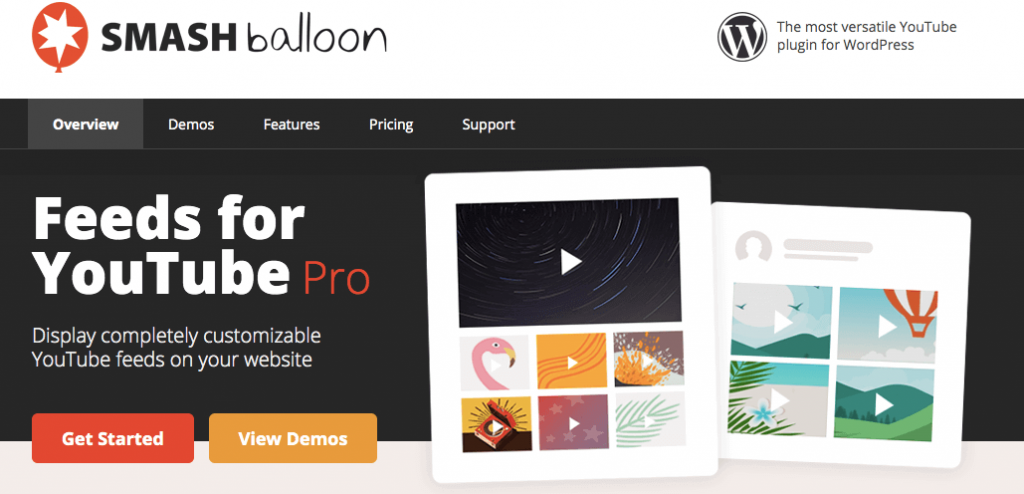 You can confidently regard it as one of the best YouTube gallery plugins out there. Smash Ballon YouTube Feed Pro plugin allows you to showcase YouTube videos in a gallery format automatically. It's extremely simple to set this plugin up. There are numerous options for you to personalize your feed and align it with your brand.
You can either handpick separate videos to develop a customized YouTube gallery. You can also showcase every video from your channel. It also gives you the choice to merge numerous YouTube channels into one feed on the website.
Every embedded video has personalized details, like shares, likes, reactions, and comments. The YouTube feed plugin of Smash Balloon supports live streams. It shows a YouTube live stream automatically on your WordPress site. The great point about this plugin is that it doesn't slow the speed of your site. Another advantage is that you can easily integrate your social content from different social media channels into a social wall.
2. Envira Gallery

Envira Gallery is another best WordPress video gallery plugin for video add-ons. Through it, you can make galleries from varied channels, like Vimeo, Wistia, YouTube, and the like. Apart from that, you can also display various videos in varied formats. The widget it has is quite user-friendly, so you don't have to be concerned about using it properly. Just drag and drop it to any of the sidebars on your website, and you are ready with a video gallery.
You can also select from the plugin's premium video gallery themes to enhance your presentation and strike a great first impression. It saves the time that is spent in creating galleries and beginning from scratch.
3. Modula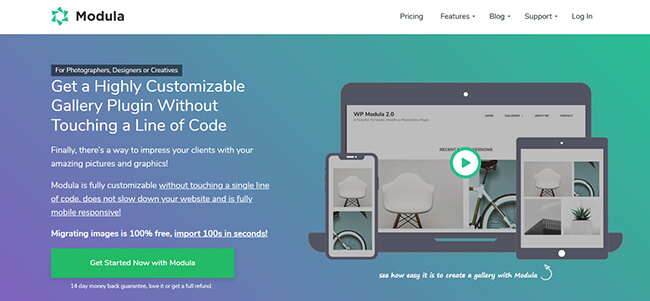 It is a widely prevalent WordPress gallery plugin that can deal with everything from pictures to videos. All the user requires to do is select the videos from the media folder of the WordPress website or embed the Vimeo or YouTube links on the gallery. Then, drag and drop the videos in the gallery you want and publish it with an original link or embed it on a webpage.
You have the option of personalizing the appearance of your galleries by modifying their layouts to columns or rids. Another option allows you to create slider galleries, which enables you to strike a more significant impact. If you want to provide your visitors and customers with a peek into your exclusive creations, you can password-protect the albums and galleries so they are hidden from public view.
4. YouTube Showcase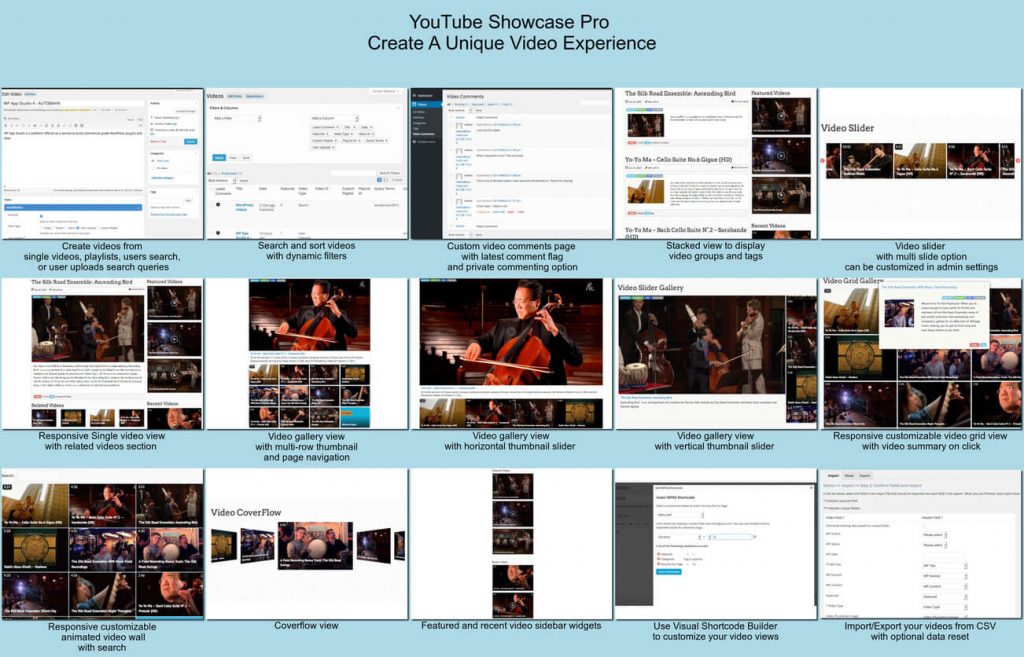 YouTube Showcase is a great WordPress video gallery plugin that you can use to add a YouTube video gallery or a grid to your WordPress website. It's default layout is impeccable and allows you to become the owner of a beautifully presented video gallery.
It is quite a useful plugin with a setup assistant, which can automatically create two kinds of video gallery pages. These are the Grid Gallery and YouTube Video Gallery. All your site visitors can effortlessly browse through your YouTube videos without getting redirected to the official site.
The YouTube Video Gallery page will enable you to showcase your video thumbnail navigation at the end part, modify how many videos are displayed via a shortcode and sequence your videos by the latest one. The Video Grid Gallery allows you to show a high-resolution video thumbnail in a responsive four-column layout. It gives you the ability to show 16 videos on every page.
The plugin comes with user-friendly widgets for recent and featured videos. You can arrange your videos with tags and categories, so users can easily find them.
5. Gallery Box

Gallery Box also features in the list of the top WP video plugins. It's because the plugin is immensely customizable and extremely easy to use. It supports a range of visual media. This plugin allows the user to effortlessly display Vimeo and YouTube videos, Portfolio gallery, Soundcloud audios, among others.
Through the varied hover effects that this plugin offers, you can make your area look much more graceful and appealing. The main reason behind its intuitive interface is the compatibility of visual composer, which allows users to work with this plugin according to their needs.
Gallery Box will allow you to make amazing image galleries, like a quick image gallery that supports three different styles: fixed height, masonry grid, and carousel slider. Its advanced image gallery provides you with 17 hover effects, four different layouts, a lightbox, load more buttons, among other features. You can also create an amazing portfolio gallery having hover effects.
6. Your Channel

A great dedicated WordPress video gallery plugin for displaying your YouTube videos on your site is Your Channel. It's especially useful for those with a YouTube channel and wants to embed it on their WordPress website. You can find it in free and premium options. Use it to redirect your visitors not somewhere away from your website to view your videos, but in a single playlist on your site.
Start by copying and pasting your channel ID on the plugin to make varied video galleries. You can even paginate your videos to prevent the galleries from influencing the loading speed of your website. Not only this, but the plugin also enables you to control how many videos to display per load. It features a cache system for rapid loading, autoplay, and translation-ready options. You can also display comments on your videos before or after they start playing. Enable the subscriber widget on your videos in the gallery and start building your subscribers!
7. Video Gallery by Total Soft

Do you want to display your videos beautifully and aesthetically? You need to try Video Gallery by Total Soft. It is one of the highly impressive WordPress video plugins that provides you with a sleek and nice video gallery. It is fully compatible with platforms like Vimeo, Wistia, YouTube, and MP4s. The video gallery it creates is intuitive and touch-friendly with incredible hover effects.
You have nine layouts from which you can choose. You can also customize multiple settings. With this plugin, you can add as many videos as you want. Even with the free version, you can make an infinite number of galleries on your site. It's a great affordable plugin for everyone who desires to feature their videos on their site.
8. Vimeography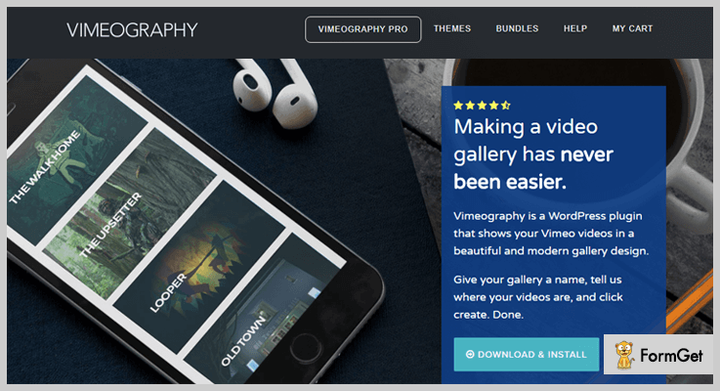 This plugin currently powers over 10,000 portfolio, course, and video membership websites. It allows the creation of mesmerizing visual galleries, all within a span of mere 30 seconds. You can integrate this plugin with all your Vimeo channels and also insert your videos into pages or templates with an easy shortcode.
With this plugin, you can configure a featured video to come as the first one on your video gallery. It also lets you tweak the gallery's theme as per your liking with the appearance editor. Use this free plugin to develop your unique Netflix-style website and let your gallery stand out.
9. Huge IT Video Gallery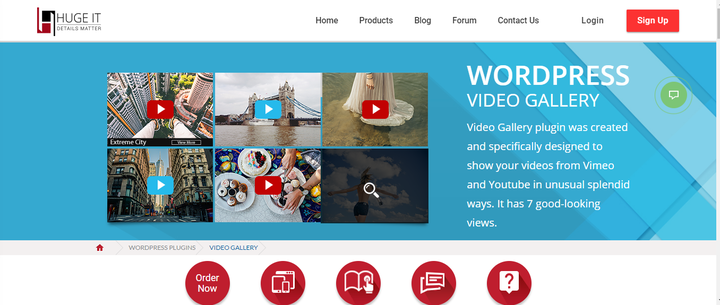 Huge IT Video Gallery is a WordPress Video Gallery plugin that is especially developed to display YouTube and Vimeo videos. With seven varied beautiful views, you can make use of this plugin to show multiple videos on your site. Every view has a unique style, so you can select one that aligns well with your website's appearance.
You also have the ability to add unlimited videos in one gallery. Then, you can add any number of gallery shortcodes according to your requirements on your page. It also has a load more and pagination options. So, you can demonstrate a portion of your videos and disguise the rest under the 'load more button. Users can also set custom URLs for every one of their videos. It appears as a View More link, and users can navigate to any page through it.
10. Huzzaz Video Gallery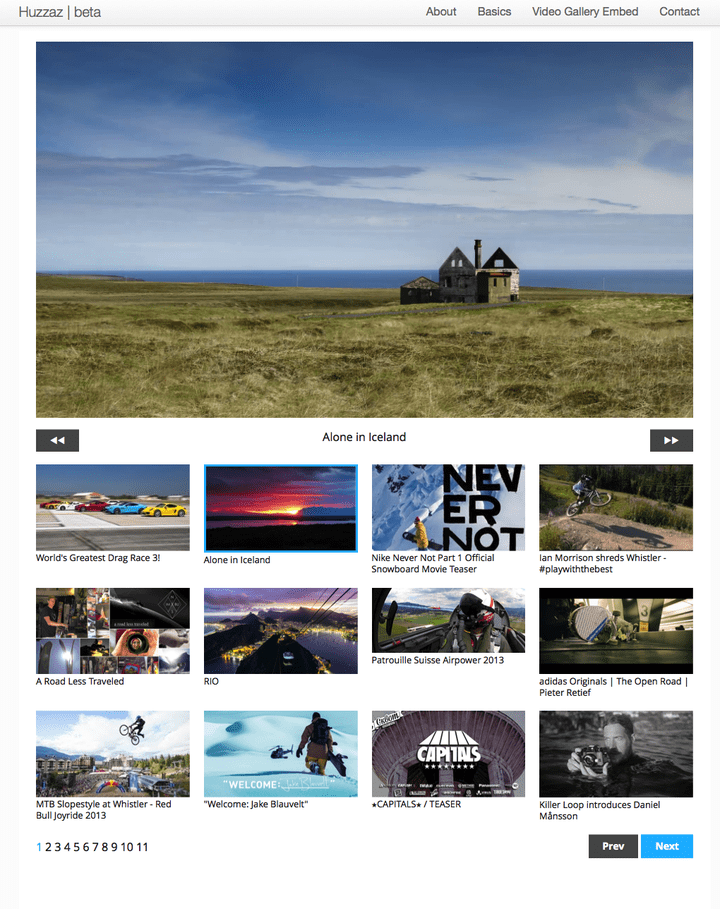 Some 8000 websites connect their visitors to videos using this plugin. It's one of the feature-rich WordPress video plugins that aid you to embed videos on your site. The Huzzaz Video Gallery plugin fully supports platforms like YouTube and Vimeo. You can get videos via the drag and drop function and show them anywhere you want on your site.
Since it's a 100 percent responsive plugin, it operates across devices. You also have the choice of searching for separate videos within the gallery. Huzzaz Video Gallery plugin will allow you to make links to separate videos in the gallery. You can auto-play your gallery. The plugin automatically runs the following video that's there in the playlist after the existing ones end. It leads to the creation of a wholly responsive gallery that adapts to any width and still looks great.
11. Robo Gallery

Robo Gallery is a free WordPress video gallery plugin with over 40,000 active installs. The plugin can easily upload several videos at a single time. Thus, it saves the user's time significantly. The plugin is quite responsive, so you don't need to be concerned about mobile users getting distracted.
Apart from Vimeo and YouTube videos, Robo Gallery is apt for images also. It consists of auto-resizing for pictures and thumbnails along with numerous custom hover effects. All the 15 hover effects work in sync with interface configuration options. You can modify, color, and style of the hover animation elements. The built-in borders and shadow settings have highly advanced options for setting the style of the gallery interface elements. You can also create a unique gallery tree according to your needs.
Other great functionalities of this plugin include the polaroid layout gallery and the option for social sharing. Users can also choose from a vast variety of resolutions and font settings. The plugin also features the function of advanced pagination.
Summing up
An appropriate WordPress video gallery plugin can help WordPress website owners display a wide variety of videos and boost user engagement. Find the right one that suits your unique needs by comparing the features of the different plugins. Think about the layout you need and the video sources, like YouTube or Vimeo you need to support. Also, determine whether you desire to combine media in your gallery. When you answer all these questions, you will easily find the perfect one.
Tagged with:
best wordpress video gallery plugin
wordpress video gallery
WordPress Video Gallery Plugin
wordpress video plugins
wp video plugins