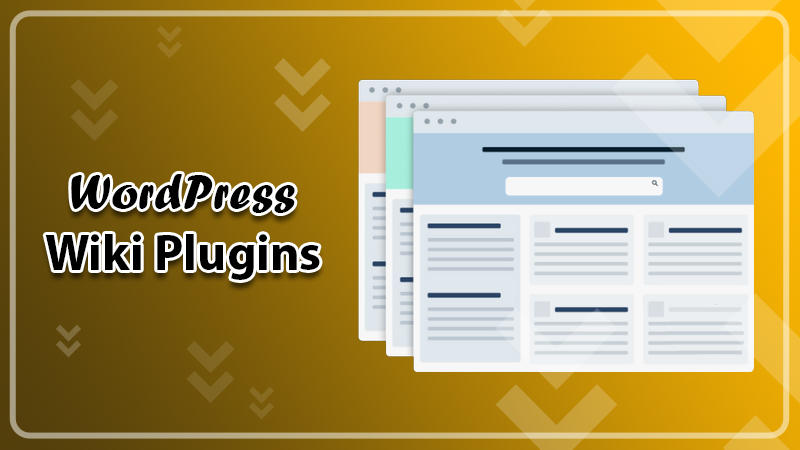 WordPress Wiki Plugins That You Must Know About
Posted by
WordPress wiki plugins have the potential to ease out things for you and if you have no clue about them then you are where you should be. We have curated a list of top WordPress wiki plugins for you that will help you out for sure.
Top 10 WordPress wiki plugins
If you are obsessed with providing a great user experience, then you must go for this Plugin. You can generate a great knowledge base that delivers necessary as well as detailed information. This plugin is easy to customize and works with any WP theme and it will also give you a template library.
You can customize everything, from colors to the layout; the ball is in your court. It is very important as the knowledge base is the primary place where people go for answers. You will be able to make a good first impression if you keep your design professional and follow a decent structure.
You can also choose if you wish to display the comments on the customers on the knowledge base articles or not.  If you want an improvisation in the navigation then you can amalgamate breadcrumb functionality in the base.
The features that make it amazing are:
Very easy to use
Can search quickly along with predictive text
A wide range of sidebar widgets to choose from
The option to drag and drop for a customized order of articles
A knowledge base can swap the game for a number of businesses, especially for those who offer products and services used by a great number of customers. You must be aware of the fact that a knowledge base works round the clock and this is the first place where people hunt for answers. Therefore, you need to ensure that it has everything.
This is where Yada wiki plays the role of your best friend. It gives wiki post type, and custom tags and it also blends in a table of the content section. All you need to do is install this wiki plugin from the WP directory or upload the files directly to the server. You can activate with a click and apart from the easy installation, this blends in amazingly into any theme and gets detailed documentation. It also has a wonderful support team just in case you have any doubts in mind.
The features that set it class apart are:
Easy to install
Custom tags and categories
The option of wiki post type
If you offer a service that includes seeking assistance from a support team then you already know how important a knowledge base is. Customers will be able to find the answers easily before they connect with the support team. This wiki plugin is the perfect option if you wish to produce any sort of knowledge base, FAQ, link portal, or bulletin board. This plugin comes with a number of features too and it is way too easy to use which sets it apart from the other plugin options.
All you need to do is add a short code on a specific page or just use the widget to show your categories and posts. You can add a particular attribute to customize it as per your preference. Its amazing features are:
Way too easy to customize
Flexible features
List categories and posts
FAQ, Wiki functionalities, and bulletin board
When you provide an elaborated knowledge base, the users will find their answers without navigating a lot. It is beneficial to you because when they find their answers quickly, they will be able to make the purchase quickly too.
This wiki plugin helps you to offer everything at one place and it is very easy to manage too. It is made with amazing SEO practices and will make it a point that your knowledge base looks good on all the devices. This also comes with an integrated FAQ section that is pretty inclusive.
The features that set it apart from the competitors are:
Great level of search engine optimization
Includes FAQ page
Easy to customize
Great and practical features
This is another WP wiki plugin that you can consider. It lets you create, manage and customize any sort of knowledge base that includes lexicons, wiki pages, a dictionary as well as encyclopedias.
What gives it an edge are the top-notch features and functionalities. Firstly, you can group vital info via tags and categories. This lets your audience find anything that they want without any difficulty. Be it user comments, featured images, related items, or excerpts; you can include anything in the database. It generates an index page on its own with the items that are stored in alphabetical order. Due to this, it gets very easy to find some specific information. It also supports WP menus and supports you to add all the components of the knowledge base on the menu. The features at a glance are:
Generates an index page with all the items on its own
Categories and tags
Can be fully translated
User comments and featured images
Content-type that can be selected
Heroic Knowledge Base is a top-leading knowledge base plugin and is the one-stop wiki solution for your WordPress website. Using such a fruitful knowledge base WordPress wiki plugins enables you to add a user-friendly wiki to your site. However, the wiki compatible with your installed WordPress theme will allow your visitors to get instant access to support data and documentation. It is too easy to operate, manage, and implement Heroic knowledge base WordPress Wiki Plugins.
Howsoever, one of the most powerful features you can gain using this plugin is Asynchronous JavaScript (AJAX). You can even configure search results for certain queries such that display your selected articles at the top. Moreover, visitors can hassle-freely provide feedback on the articles to help search results to recognize what customers are looking for and make sure they receive actual information.
Perks Of Heroic Knowledge Base WordPress Wiki Plugins
No effort to use it.
Integrates plugins effortlessly with your WordPress site.
Great design available so your wiki site will look eye-catching.
Lightning-fast AJAX-based search allows visitors to search for what exactly they need in just a few seconds.
Compile customers' feedback on articles so you can identify which articles are actually helping the customers.
WP Glossary is a paid version of the WordPress Wiki Plugin that enables you to competently create a wiki using the content. They are fully managed by categories and glossaries that classify terms in alphabetical order. Despite generating the latest custom post type for your wiki content, you can even use the existing post types. Your posts are thereafter considered collectively into an index page with a Clean & Clear design.
Perks Of WP Glossary WordPress Wiki Plugins
It has simple, delicate, and built-in styles so, no need to customize your wiki plugins.
Glossary terms with professional animation effects.
Customize custom styles like tooltip popups, text colors, and more as per your requirement.
Shortcodes are available, so feel free to add a wiki to any post or page.
Hyperlink terms include posts to enhance SEO rank.
Another utmost premium WordPress knowledge base wiki plugin is MinervaKB prominent for creating a searchable wiki platform. The search page is quite modern, simple, and somehow customizable. However, configuring the layout of your wiki page with this plugin is not so tricky just because of integration with Elementor and Visual composer.
However, if you're a new WordPress user, or looking to create a simple but quality wiki, you can hassle-freely consider this plugin.
Perks Of MinervaKB Wiki Plugins
A dynamic table of contents
Color effects and customization
Live AJAX search
Analytics dashboard and Google Analytics integration
Content shortcodes
Like and dislike buttons
Content limitation
Nested topics
Helpie WP is the finest Knowledge base Wiki Plugins for your WordPress website that allows you to create public wiki sites on relevant topics such as movies, business, video games, and more.
The actual focus of this plugin is on collaboration. Visitors can frequently sign up and submit articles from the front end of your website. Additionally, you can set permissions for who can edit and publish content.
Perks Of Helpie WP WordPress Wiki Plugins
Set user abilities to smoothly edit, publish or approve articles.
Saving and rolling back to previous revisions anytime to update the content if required.
Set restrictions for users based on the topics you have opted for.
Variant Style customization.
Assimilation with page-builder plugins such as Elementor.
AJAX-based live search and breadcrumbs.
High-rated Password protection.
Article voting facility encourages a collaborative wiki community.
Extensive Support for shortcodes.
A Pixel Knowledge base is the most affordable and super-rated Wiki plugin for WordPress. It consists of fundamental features that you actually need to create a wiki site. Such a marvelous prolific wiki plugin allows visitors to instantly classify articles by title, date, votes, or views without refreshing the page.
Perks Of Pixel Knowledge Base WordPress Wiki Plugins
The Voting system
Categories with up to 4 columns per row
Front-End content submission
Restricting categories from user roles
Smart Ajax live search
Availability of Advanced sorting options
Stepwise Directives To Use These Plugins To Create Wiki
After collecting the name of WordPress Wiki Plugins, you can start creating a wiki using anyone of the above for your WordPress. Let's begin!
Step 1: Install And Activate Your Wiki Plugin
In the very beginning step of building your wiki, you need to install and activate your preferred plugin. You are simply required to install a WordPress Wiki Plugin in your WordPress dashboard, or just by navigating the WordPress Plugin Directory.
Step 2: Add Wiki Content
Once the plugin is successfully installed and activated, a wiki will automatically be created for your WordPress website. Now, you are free to start adding content to your site by implementing the following tips:
First, go to the "Wiki Pages" option.
There, select the "Add New" button.
Afterward, add a title to the page, and slightly insert the content.
This is it! Content has been eventually added to your site.
Once your content is all set, you can add a category, tags, and featured image. After that, give a click on the "Publish" button to add the wiki page to your WordPress website.
Step 3: Update Your Plugin Settings
After you add content, you can also configure your wiki's settings. You will do this just by going to the Settings option and selecting your chosen wiki plugin.
There, you can update the strike for your wiki, if you want it to display at a different URL. You can also enable comments, pingbacks, and the use of the Block Editor.
Conclusion
We hope that we were able to assist you with the WP wiki plugins. If there is anything else that you need to know then all you have to do is get in touch with WordPress Support and the experts will guide you.
Tagged with:
wiki plugin wordpress
wiki plugins
wordpress wiki plugin
WordPress Wiki Plugins