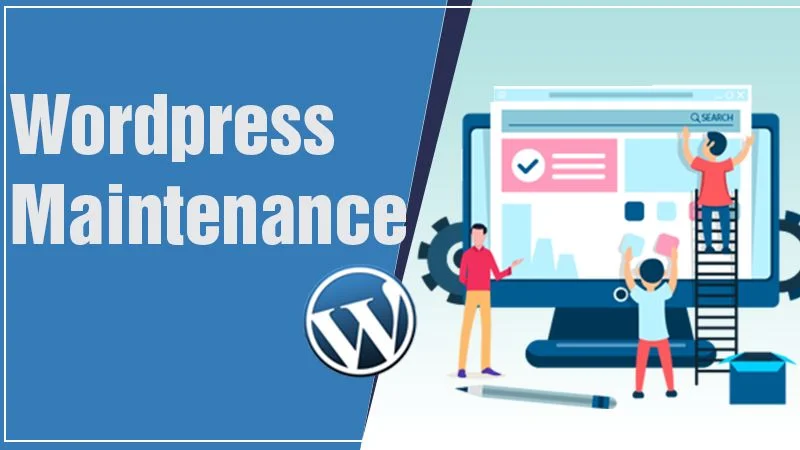 How To Choose the Best WordPress Maintenance Service?
Posted by
Having a WordPress website is not enough, its regular maintenance is what makes the website easy to use and decreases the occurrence of database errors. In addition to eliminating the site issues, WordPress maintenance services boost your site's performance, build a strong reputation, and secure site exploitation from hackers.
WordPress maintenance services that optimize your WordPress website.
1. Change WordPress password
Changing your WordPress password should be the first step towards defending unauthorized access by intruders. Make sure to select a unique password for all accounts, including FTP, database, and WordPress website and it should be a combination of numbers and alphabets. If you are facing a problem changing the password, then WordPress maintenance experts will help you do it. Be it WordPress administration, FTP, or WordPress database, our WordPress maintenance experts will help you change the password for any online account.
2. Create a WordPress website's backup
Having a WordPress backup is essential as it helps in troubled times. Based on your WordPress site, our experts will suggest you the backup WordPress maintenance plugin which is completely automatic and hassle-free. While using WordPress, you must run the backup plugin as this creates the backup of your website. Henceforth, you must also check that it safely stores the backup files at the location of your choice that is Dropbox, Google Drive, etc.
3. Update files on WordPress
WordPress updates shouldn't be ignored since it includes the updates for plugins and themes. Although WordPress is designed to control the updates by itself for plugins, themes, and WordPress core, it misses on updates as well when the license expires. In that case, you must visit the website and check the updates manually. You can simply review the latest plugins and get them on your system.
Our WordPress maintenance service also includes removing spam comments from your site. You can use several tools to solve the purpose. However, there have been a few instances where it also pinpoints legitimate comments. To avoid such issues you must have a quick look at the comments and remove the real comments from the spam folder. After checking them out you can remove the spam comments and if there are many (in thousands) then use batch delete all spam comments in WordPress.
5. Sort the WordPress database
WordPress data such as contents, comments, settings, etc are stored in the WP database. Over time it stores some unnecessary information and collects a lot of clutter hence increases the backup file size. All these things impact the uploading, downloading, and backup restoring capability of WordPress. Hence you must sort the WordPress and the optimization steps such as clutter cleaning, tables defragmentation, and enhance the database performance.
6. Check website performance
You should always stay on top of your website performance and keep checking it regularly. As time passes, you keep adding new content, install the latest plugins or change the teams, All these things impact the site performance. You might face issues with user experience as the site will take more time to load. That is the reason you should always review the performance status of your website. Make sure to not limit the analysis up to the homepage and check other important pages as well.
Now that you know what must be included in a WordPress maintenance plan, let's check out the list of best WordPress support providers.
Top 10 WordPress Support Providers To Choose From
In the section below, we have enlisted the top 10 companies, comparing their services and customer support.
1.Wordpress Support for Web Maintenance
WordPress Support offers an end-to-end solution for all your WordPress needs. Starting from website design and development to regular wordpress website maintenance, they offer every service on a single platform.
Starting with a monthly plan at $129, WordPress support offers customizable plans for your website according to your needs.
Their basic services are-
24×7 WordPress Support For Themes, Plugins & Error
Unlimited Technical Support
End to End Deployment
Malware Removal on Your WP Website
Security Firewall To Protect From Malware Attacks
They work alongside freelancers as well as a dedicated team of developers who offer 24*7 WordPress support.
2.WP Buffs
Another great option to get WordPress support from is WP Buffs. They offer custom plans for complex as well as simple WordPress needs.
Their services include WordPress maintenance, themes, and plugins, WP updates, and security from malware removal. Once you purchase their annual plan, you will get an extended 2 months maintenance service absolutely free.
In comparison to others, WP Buff also provides Google Analytics integration, free premium plugins, and even mobile/tablet optimization which makes it preferred by the customers.
3. Maintain
Maintain offers enterprise support at $299 per month where it serves businesses with WordPress website maintenance services, backup, and security. They have services for custom website development. They can use current code to customize and update the website and offer consultation whenever needed.
Maintain offers timely updates and bug fixes so customers need not worry about it all the time.
4. WP SitePlan
WP SitePlan offers flexibility to the clients to choose a monthly plan. Each of its plans includes backups, database management, security, themes, and plugins. It is a smart option for you if you need continuous monitoring of the website on a budget.
Their basic plan includes limited services like-
Daily Off-Site Backups
Real-Time Uptime Monitoring
Daily Database Optimization
Security scans
Updates when needed
Monthly Reporting
5. WP Site Care
If budget is not a constraint for you, WP Site Care can offer a great package of services for your WordPress website. They offer WordPress maintenance as well as supplementary services which include backup and security services.
If you don't have a lot of time to keep a track of your website then you can go for their reliable services to keep up with the latest updates.
Sign up for their free trial and check if their services work for your business.
6. WP Maintainer
WP Maintainer is a reliable platform that offers 360-degree WordPress support as well as development. Their development service is not included in their plans. They charge separately for them at a rate of $99 per hour, which makes their services a lot costlier than others. However, their support plan is offered at $99 per month.
Therefore, you can avail yourself of the best-in-class services from them if you are not looking for a cost-effective solution.
7. The WP Butler
WP Butler offers the flexibility required by clients. It offers customizable plans to customers so they pay exactly for what they want.
Several services are offered by them. Some of the most preferred are-
Uptime monitoring of websites.
Security scan to protect from viruses.
Regular backup of the website
WordPress updates
You can hire the website for intervals to avail of their services and to perform regular checks.
8. FixRunner
When it comes to customer service for WordPress, FixRunner comes to mind. Their min TAT and fastest service at critical times make it reliable for the customers. The company offers one-time service support. So, you can check the services and then decide if you wish to continue using their services.
FixRunner services are not limited to WordPress maintenance and support services. In addition to these, they also offer on-page SEO, speed optimization, etc. Thus, offering services to boost your business presence online.
9. Codeable
If you are looking for freelancers to work on your WordPress website to avail their affordable services, Codeable is a reliable platform. The developers registered on the website offer exceptional WordPress services and offer solutions to all your WordPress needs.
The freelance coders are professional and vetted developers. You can easily connect with them for immediate assistance and get your work done in less time and comparatively lesser price.
10. WP TechSupport
Unlike most WordPress service providers, WP TechSupport offers a complete solution for your website needs. While you focus on your business, WP TechSupport manages your website in the best way possible.
IT helps in website development, maintenance and offers emergency fixes. Their skilled team also specializes in IT services and Search Engine Optimization.
WP TechSupport offers innumerable plans to choose from. So, if you are new to it, choosing the best plan for your business can be overwhelming for you.
In the Nutshell
Searching for WordPress Support providers can be intimidating, especially when you have so many brilliant options to choose from. Therefore, it is advisable that you choose any company according to your requirements and budget. Ask for customizable plans to get the best services from them.
Tagged with:
briefly unavailable for scheduled maintenance. check back in a minute. wordpress
web maintenance
website hosting and maintenance
website maintenance
website maintenance plan
website maintenance services
wordpress maintenance package
wordpress maintenance packages
wordpress maintenance service
wordpress maintenance services
wordpress website maintenance
wp maintainer