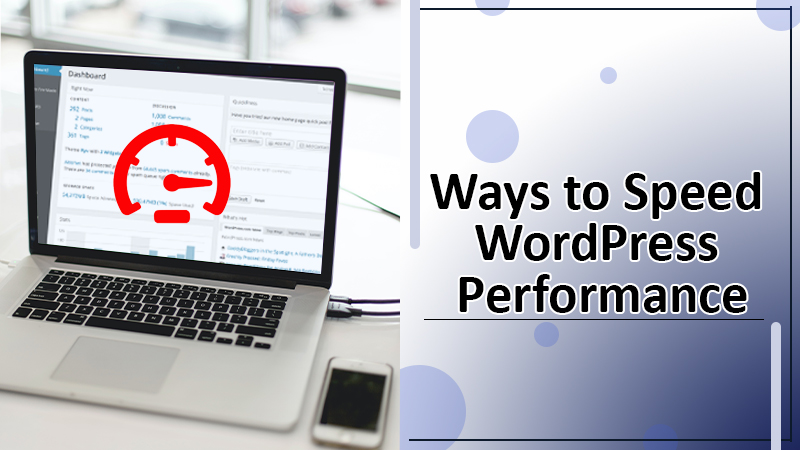 Simple Ways to Speed WordPress Performance and Boost Its Ranking
Posted by
Every WordPress website owner desires a high-speed site. And why not? Rapidly loading pages not only enhance the user experience they also support your search engine optimization (SEO) efforts. If your website loads at a snail's pace, it's highly likely that it won't receive the desired traffic. In fact, its ranking would go down with every passing day. The good news is that there are several ways to speed WordPress performance. You can benefit from a high-performing WordPress website when you know helpful speed optimization tips. In this comprehensive article, you will discover highly effective ways to enhance the speed of your platform.
What's the Need for Having a Website That Loads Fast?
Today, visitors expect websites to load at lightning speed. Approximately 40 percent of them believe that it's better to abandon a website if it takes more than three seconds to load fully. Another significant point to note is that sites that have loading speeds ranging from 1 to 2 seconds have three times or higher conversion rates than those that load within 5 to 10 seconds. Some reasons for having a fast-loading website include the following.
Search engines rank sites with fast-loading times above those that load slowly. Consequently, anyone desiring to enhance their ranking in the search engine results pages should think of enhancing their site speed.
Site speed is of much greater significance for eCommerce store owners. Online buyers today are very impatient. They expect a page to load in a second. So, to make more profits from your store, enhance your site speed.
A site that takes over two seconds to load loses 47 percent of its visitors. So, if you desire to keep your visitors engaged and interested, you need to amp up the speed of your site.
Ways to Speed WordPress Performance
You can create a fast WordPress website in many ways. Keep reading to find some powerful WordPress speed optimization techniques.
1. Install a WP caching plugin
The pages in a WordPress website are developed on the fly every time a reader visits your website. Put simply, they are pretty dynamic. WordPress runs a process to determine the needed information, compile it, and display it to a visitor for building the pages. This process is a complex one, involving multiple steps. It can bring down the speed of your website, especially if you have numerous visitors at once. Thus, by using a caching plugin, you can make your site speed as much as 5X faster than what it currently is.
The caching plugin removes the need for undertaking the whole page generation process each time someone visits your page, it makes its copies. Instead, it makes the page's copy after it loads for the first time. After that, it serves the cached variant to every new user.
2. Select an efficient web hosting provider
Many WP website owners are tempted to host their site on a shared hosting provider. But shared hosting environments aren't able to provide robust loading times on hours when the traffic is at its peak.
Fortunately, with the advancement in the web hosting industry, the cost of cloud hosting providers has been reduced. Now users can purchase dedicated Cloud servers from Amazon Web Services, SiteGround, and the like at affordable prices.
3. Optimize your site images and Speed Up WordPress Performance
Images are essential to trigger user engagement. However, unoptimized images do not help but harm your website's SEO. They cause various speed issues. Before uploading any images to your website, optimize them through photo editing software. You can decrease colossal image file sizes by using compression in your software.
Two major image formats you can use include PNG and JPEG. PNG is an uncompressed format and is ideal for images with more details and various colors. JPEG is a compressed file format ideal for simpler images without much detail. The majority of images on your site should be JPEGs.
4. Employ a lightweight WordPress framework or theme
There's no doubt that WordPress themes with various elements, widgets, sliders, and the like are appealing to the onlooker. But note that the presence of many elements and greater page sizes can put a load on your web server.
A great WordPress performance optimization technique includes using lightweight plugins. You can opt for a default WordPress theme. Alternately, you can also choose a fast, lightweight, and flexible WordPress theme like Neve, created by the makers of the CodeinWP plugin.
5. Minify JavaScript and CSS files
Minification means minimizing code and markup in your website pages. It's one of the significant ways to reduce load times and bandwidth usage on a website. Minification enhances site speed and accessibility, resulting in a great user experience. To minify JS and CSS files, you should remove comments and extra spaces. It will minimize code and file size. The minified file version will give the same functionality while bringing down the bandwidth of network requests.
6. Utilize a Content Delivery Network or CDN
People residing in different geographical locations experience different site loading times. It's due to the place of your web hosting servers. For instance, suppose your web hosting company has servers in England. In such a case, a visitor from England will experience a faster loading time than one from another country. By employing a CDN, you can quicken the loading times for every one of your visitors. It's one of the effective ways to speed WordPress performance.
A CDN refers to a network that comprises servers worldwide. Every server stores' static files' that are utilized to make up your website. These files contain unchanging files like JavaScript, CSS, and images. Thus, they are different from the 'dynamic' WordPress pages. With a CDN, a user is served static files from the nearest server. Moreover, the CDN does a lot of work, resulting in your own web hosting server being faster.
7. Never upload an audio or video file to your WordPress platform directly.
It is a mistake that many website owners make. You host audio and video files directly at the expense of your bandwidth. It results in overage fees charged by your web hosting company. Additionally, when you host huge media files, it also makes the backup sizes greater. It, in turn, makes it challenging to retrieve WordPress from backup.
One of the best ways to speed WordPress performance is to employ a video and audio hosting service like Vimeo, DailyMotion, and YouTube. They have sufficient bandwidth to host your files.
8. Use GZIP compression for Speed Up WordPress Performance
When you compress files on your local system, you free up huge disk space. Likewise, for the web, GZIP compression is used. It tremendously minimizes bandwidth utilization and the amount of time it takes a person to access your site.
GZIP compresses numerous files, so when a visitor attempts to access the site, their browser first needs to unzip the website. Through this procedure, the bandwidth gets reduced considerably. For enabling GZIP compression, you can use a plugin like the PageSpeed Ninja.
9. Uninstall unwanted plugins
Don't keep unnecessary plugins on your WordPress website. They add loads of junk to the web files. It also raises your backup size and burdens your server resources during the generation of backup files. So, getting rid of unwanted plugins is a critical WordPress speed optimization tip that you shouldn't ignore. Find other ways to use third-party services to schedule various tasks. Some good web services you can use for this purpose include IFTTT and Zapier.
10. Consider using faster plugins.
Apart from eliminating unnecessary plugins, you can also replace them with faster plugins. Some common plugins that are easy to use and Speed Up WordPress performance are mentioned below.
MonsterInsights – It is a robust Google Analytics plugin that does not slow down the website. It has an option to load gtag.js locally to speed up your website's Google Core Web Vitals score.
WPForms – It is one of the quickest contact form plugins for WP sites that even a beginner can use easily.
SeedProd – It is a WordPress landing page plugin that enables you to develop super-fast landing pages.
All in One SEO – This plugin gives extra focus to website performance and helps the owner achieve greater SEO rankings.
Shared Counts – It's the fastest social media plugin that quickly loads additional scripts.
11. Minimize external scripts
When you use external scripts on your site's pages, it adds a significant amount of data to the website's loading time. Therefore, for optimizing your website's performance, use fewer scripts. Only use essential tracking tools or commenting systems.
Final Words
As website owners, your principal aim should be to impart a great visitor experience. A website that loads quickly has greater chances of retaining and engaging visitors. Implement the various ways to speed WordPress performance that this article explains. You'll surely benefit from an improvement in your website ranking on the search engine. If you face any issues in applying any of the measures, feel free to contact professional WordPress support services.
Tagged with:
page speed optimization for wordpress
speed up wordpress loading time
speed up wordpress site