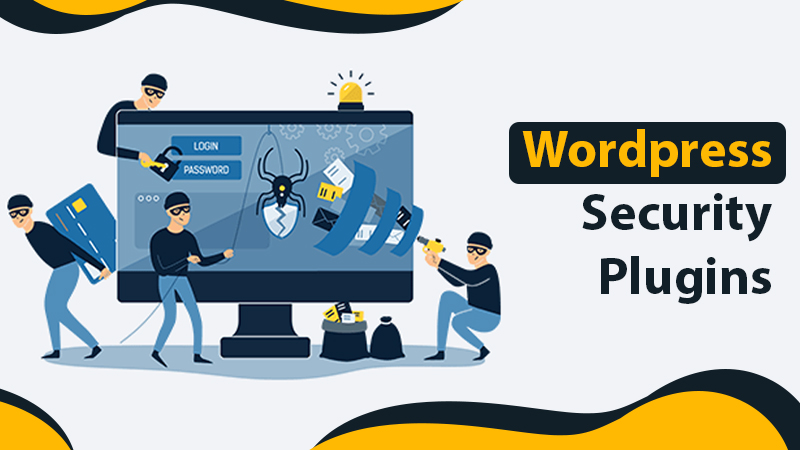 12 Best WordPress Security Plugins In 2022
Posted by
Do you also want to add WordPress security plugins to your websites? And, protect them against online threats? The Internet nowadays is a web of both advantages & threats. If it has taken the entrepreneurship model to a new high, at the same time it is a dangerous place that exposes you to malicious attacks every day. Cybercriminals are real invaders and are not going anywhere. This is where it is the most susceptible place. In order to protect your site, you would require the best WordPress security plugins. Security these days is one of the essential factors for many websites. It's like a watchman patrolling a house round-the-clock. Without this, there is always a threat to your house.
When you're protected to defend against WordPress-targeted cyber attacks. It comprises website scanning and web application firewalls (WAFs). The good thing about best security plugins for WordPress is that it is free or paid monthly, but often paid versions are always worthy of recurring expenses to avoid in the event of an attack.
But always be aware there is always a chance of potential hacks on your website, which necessitates the importance of using robust and well-maintained WordPress security plugins from the WordPress plugin library. IN THIS POST, there is a list of the best WordPress security plugins that help you protect WordPress sites from online threats.
Why Do I Need A WordPress Security Plugins?
A plugin enhances the capability of your website from malware, brute force attack, and spammers. When there is too much threat of cyber attacks on online businesses. It hardly does matter whether you're running an online business or operating a brick-and-mortar. Hackers can target anyone as deadly SARS COV-2 did.
Malicious attacks on websites can severely affect :
Badly Impact Your Business
Affects Reputation Of Your Brand
Negative Effects On Search Engine Rankings
So what are the factors to look at in Security Plugins Or All The Features:
Acts as a safeguard to your websites, which is when hackers login with your credentials
Notification when a security threat is detected
Block Spam From (contact plugins)
Advantages Of Using A WordPress Security Plugins
No surprise, if WordPress sites are hacked since they are the most popular website builder. So, it is always important to secure the most popular platform.
Safeguard Your Confidential Data: Adding security plugins are like keeping your data and customers safe from hackers without losing access
Minimize Unwarranted Force Attacks: WordPress security plugins act as safeguarding (when an attacker tries to tress-pass and figure out a password or decode encrypted data on your website)
Protects From Brand Reputation Damage: Frequent malicious attacks on, users can badly impact search rankings and brand reputation, while using plugins you don't worry about this
Avoid Losing Access to Your Website:  It's like you are locked inside your own house. Using the WordPress plugin you can have the advantage of losing access.
Stop Brute Force Attacks: WordPress security plugins act as a safeguard against brute force attacks (when an attacker goes for trial and error method to figure out passwords or decode encrypted data) on your website
Prevent Bad Impact On SEO Rankings: Hacking incidents can have a long-term impact on your search rankings and brand reputation affecting your SEO. To diminish any damage with a security plugin.
As we can see, there could be ample reasons why using a plugin for securing the website is easier. But don't always go by the winds. Always look for the best security plugin that fits into your agenda. Seek experts' opinions.
Best WordPress Security Plugins
Let's Look At Some Of The Best Security Plugins (Free and Premium)
1. Wordfence (A Robust Security Plugin WordPress)
It is very effective software that keeps you away from hackers on the website. If you are a growing entrepreneur with a small website, it offers basic protection. However, you'll find some limitations when comparing to paid services. Comes with an intuitive dashboard that makes your navigation easier
Features you can look for in premium versions:
WordPress malware scanner
Real-time firewall protection
Protected login mechanism with two-factor authentication
File integration for malicious codes
Country blocking
Pricing: Free or $ 99 for one site.
2. Sucuri (One Of The Best Security Plugins For WordPress)
This is one of the premium security plugin tools you'll find for your website. It is suitable for those with great indications of the kind of traffic they can handle. It is a free plugin but the real value lies in the paid plan as it gives a complete feature with emails.
Price: $10/month
Not only Firewall features, but it also protects powerful security features to your website security :
Keep a check on Spam
Monitoring websites for security threats
Conduct security audits
CDN (Content Delivery Network) to optimize website performance
3. IThemes Security (An Ideal Security Plugin For WordPress)
 If you're always wanting to keep hackers away, it offers a beautiful dashboard. The dashboard allows you to monitor activity regularly and manage the security logs. The plugin is quite effective in using brute force attacks and malware.
Here are some compelling features of iThemes Security:
Detection of 404 errors
Setting up strong passwords using the plugin
Instant email notifications
File change detection
Lockout bad users
4. WP Scan (Best WordPress Security Scanner)
SECURITY IS THE NEED OF THE HOUR. So if you have long been looking for FREE WordPress security plugins for your website, this is an open-source choice. Once you start using this you'll be free from manual scanning of websites and up-to-date data vulnerabilities for security threats. Besides that, it debugs file logs, weak passwords, backup files, and more.
You'll get more features with WP Scan:
Additional security checks.
Free APIs & Email notifications.
Automatically scans for WordPress, plugins, and vulnerabilities.
Updated data for WordPress threats.
Pricing: Free & Paid
5. Jetpack (All Round Solution For Protecting Your Website)
It perfectly fits into a versatile solution for the best WordPress security plugins that offer complete solutions to protecting a website and maintaining speed and security. The good thing about Jetpack is that it is available in both free and paid versions). In the free version, you get features like regular monitoring and brute force protection. So it provides you with all the essential features to manage a website.
However, if you're expecting some  premium  features, it offers
Secure authentication for WordPress accounts
Malware scanning & Monitoring site activity
Automatic update of plugins
Regular automated website backups
Automated malware scanning
Pricing: Free & Paid
6. Bulletproof Security (Protects Your Site From Malicious Attacks)
One of the popular tools available give features to protect your site from hackers. In terms of security features, you may not find it most suitable, but its extensive features make up for it.
Powerful malware scanner
Real-time file monitoring
Database backup
Anti-spam feature
Security and HTTP error logging
7. Monster Insights (Ideal Google Analytic Plugins For WordPress)
Using this tool, you can optimize the speed of your website which helps in increasing traffic, subscribers, and revenue. It is available in a free version but you can unlock its full potential when using the upgraded version. Perhaps an SEO-friendly tool that allows you to look into what users are doing to your websites. More than 30 million websites have taken advantage of it.
Features:
Displays Key Aspects On Websites
Helpful in e-commerce tracking
GDPR friendly
SEO-ranking reports
Pricing: Free & Paid
If you're going through a tight budget and are limited with your expenses, this is the tool to go for. It offers features like IP blogging, IP features, malware removal, and other security features. Mini Orange provides a full simple solution for extra logging protection. Google Authenticator adds more teeth with other popular restrictions like Ultimate Member and BuddyPress to prefer secondary authentication methods. When you talk about the pro version, it includes a firewall, malware, event logger, and scheduled scans.
Features to look for:
Protects from login Area Vulnerability
Pocket-friendly, affordable security plugins
Let you choose the 2FA methods, which you find easier
Price: Free and Paid Plans available
9. Malware Security (Provides Thorough Analysis Of Websites)
 If frequent cyber attacks keep you scratching your head, and don't know what to do after cyberattacks. That's where Malware security features come to the rescue. It provides the deep scanning of website files and WordPress database login, portal, and a web application firewall. However, like all other tools, to take the maximum advantages you can name for itself auto-scanning.
Key Features:
Reduces server load by off-site scanning
Accurate Scanning
Capable of testing more than 100 signals
Price: Free & Paid versions available
10. SecurityNinja  (A User-friendly WordPress Security Plugins)
 An efficient tool that provides comprehensive and user-friendly features — and tries the security login feature. It gives you the leverage to check core files, themes and plugins, and password strength— and reports the safety status of the website. The free version of the Security Ninja report allows you to report the problem and does not alter the site. If you're looking for advanced versions, you need a plugin to fix major issues. It consists of features like a firewall, malware scanner, and scheduled scans.
Unique Features:
Security Ninja allows security scans
Resolve issues automatically
Enables you to perform more than 50 security tests across the website
11. Shield Security (Widely Downloaded WordPress Security Plugin)
Provides top-rated and most downloaded security plugins in the WordPress directory. It starts working at once so it protects your site after the activation. Shield Security provides an excellent WordPress security plugin that offers complete and accurate detection of file modifications for plugins and themes — not just core files. Unlike other plugins that rely exclusively on the core fingerprint files as WordPress provides. Shield Security works with its own file fingerprints.
Further, if you're looking to gain access to individual dedicated support, you can upgrade to Shield PRO.
Price: Free and paid plans available
Key Features:
Starts scanning and activation from the activation point
Three types of 2FAs to choose from
Enables you with plenty of protection
12. Defender (A Free Security Plugin And Trusted Globally)
If you're looking for WordPress security plugins that are downloaded and trusted by millions, then Defender will be the key choice. When you install the tool with a few clicks, it immediately goes to work to protect your website.
It comprises various security features that too, at zero cost. It is available in a free version that includes malware scans, brute force login protection, threats notification, and two-factor authentication through Google.
The defender has more in-depth security features and enhanced support.
Pricing: Defender Pro only, $6/ month, Security & Back up Packs $ 9/month
Features:
Provides Audit log that tracks users' action
Can reset your credentials in case of any threat
Provides flexible pricing in terms of websites used
Final Verdict
You've finally completed a tour list of the best security plugins for WordPress websites. If you have been too keen on finding the best WordPress security plugins to protect your site from hackers and potential threats like malware, brute force attacks, DDoS attacks, and spam, then you can go ahead with Security Ninja, Sucuri & Defender.
Adding security plugins is one of the strongest defenses you can put up on your website. And with more exciting features, if you're looking for power monitoring and blocking threats in real-time then choosing Sucuri can do the trick for you. And that's it! We hope this article gives you insight into the best WordPress security plugins to block hackers. You might also be keen to check out the key Google Analytics metrics for any business. Use our social media channels like  Youtube, Facebook, and Twitter for essential marketing tips for visitors.
But that does not finish the chapter. Hackers are very smart and know things in advance, and they know security loopholes in WordPress. Don't Let Intruders Steal Away Your Important Data —- Take advantage of Best Available WordPress Security, Plugins, and keep adding security layers to your website.
Tagged with:
Best wordpress security plugins
wordpress security plugin
wordpress security plugins