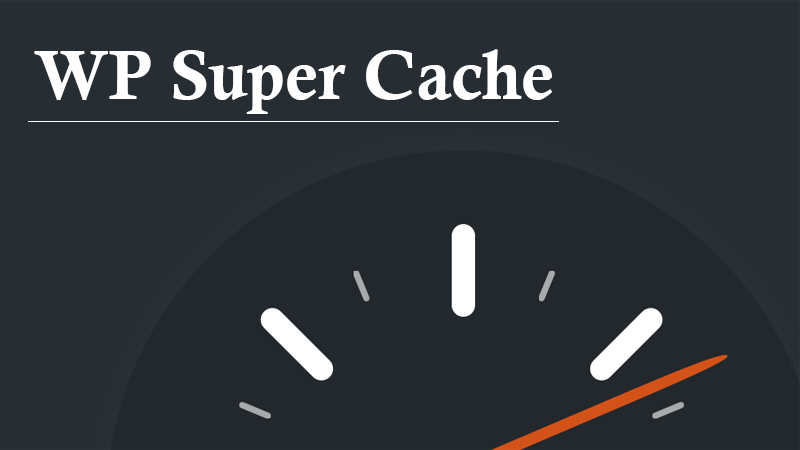 How To Install And Setup WP Super Cache In No Time?
Posted by
Bringing the WordPress website to be ranking at the top in Google is as much important as producing an eye-catching site. The speed of the site that is accessed on the internet matters a lot in securing top-rank. Luckily, there is a WP Super Cache WordPress plugin for making the site run faster, enhancing the site's SEO, and improving the user experience. So, if your WordPress site doesn't exist in the Google search, install and set up the magnificent WordPress caching plugin correctly. This will surely be an impact on your website's performance. In this post, the step-by-step installation procedures are mentioned for a newbie. So, read to learn how to use it most efficiently to boost your site rank.
WP Super Cache – Brief Explanation
WP Super Cache is the one brilliant and popular free WordPress caching plugin that makes WordPress Sites faster. Such an interesting plugin usually generates static HTML files directly from your dynamic WordPress blog. So, whenever anyone visits your site, that files are served regardless of processing the comparatively more expensive PHP scripts. The static Html files will be provided to the majority of the users who:
Are not logged in
Have not left a comment on your blog
Or, the users who have not viewed a password-protected post.
Why Should Use WP Super Cache Plugin?
When you use the WP Super Cache plugin, the following are the benefits you will be able to grab in your hand:
WordPress website's speed and performance will drastically increase.
With the high-speed website loading, you will be seeing enhancement in your WordPress SEO rank.
Improve the overall experience of your WordPress visitors. If the site takes lesser time to load, people will take more interest in visiting it.
Cached Websites will run faster than non-cached sites.
Gain website traffic in minimal time at no cost.
Ways to Setup WP Super Cache Plugin with Cloudflare
Cloudflare is a free content delivery network and security service that helps to speed up your WordPress site. Connect your site to WP Super Cache Cloudflare if you really want to secure your site with SSL and bot protection. Before start using Cloudflare, you will have to create an account and then link it to your created website. Beneath, we will show you what to perform:
First and foremost, head over to the official Cloudflare website and then hit the "Sign up" button.
Thereafter, enter your email address and generate a case-sensitive password.
Once the WordPress Super Cache Cloudflare account is been created, the "+Add site" page will appear.
Now, you will be asked to enter your site's URL into the given field. Once you enter your site, put a single click on the "Add site" button.
Afterward, you will be prompted to select the plan so that you can frequently use your site with all the fruitful features. Choose the Free plan.
Now, to set up your website, enter the site's Domain Name and then click the "Begin Scan" tab.
The scanning process will take a couple of minutes. Wait till it completes and then tap "Continue Setup."
Now, your site's DNS records will be scanned and will show you the list. Make sure all your DNS records are listed there.
Then, select the WordPress Cloudflare Plan called Free Website.
Then, click "Continue".
Now, change your Nameservers from your registrar's dashboard. Modify your Nameservers depending on the place where you registered your domain name.
Thereafter, click "Continue."
Finally, the status of the Cloudflare Dashboard is changed to Active.
Now, it's time to install the WP Super Cache plugin.
Effective Steps To Install WordPress Super Cache
Here's the step-by-step guide to integrate the cache plugins with WordPress Super Cache Cloudflare:
First, open your WordPress Dashboard.
Then, go to "Add Plugins" and type "WP Super Cache" into the search field.
Once you see the option, click the "Install Now" tab.
Now, wait for the plugin to be installed successfully on your WordPress Dashboard.
Now, click the "Activate" tab.
Finally, the cache plugin gets activated on your site.
Effective Steps To Set up WP Super Cache
Here are the suitable directives to set up WP Super Cache WooCommerce:
After activating your cache plugin with the above guidance, go to the "Settings" section.
Thereafter, from the opened list of options, click on "WP Super Cache."
Now, under the "Easy" tab, select the "Caching On" option.
Now, you have to click on the "Update Status" button.
After enabling the cache, scroll down to the "Cache Tester" section and click 'Test Cache' to check if it is working.
After clicking "Test Cache," WP Super Cache will link your WordPress site twice and evaluate the timestamps of both pages. If both timestamps match, then it is confirmed that caching is working proactively on your site.
After doing so, the cached pages are stored on your server as static HTML and PHP files.
Now, your site will run smoother and quicker than any non-cached website, and hence your site will rank in Google.
WP Rocket Vs WP Super Cache
The major differences between both the WP Rocket And WP Super Cache plugins are noted beneath. Check it out!
1. Subscription Plan
WP Rocket is a premium WordPress plugin whereas WP Super Cache is a free prominent plugin. This means for your site performance, you need to purchase a suitable plan for WP Rocket. But, there is no need to pay a single penny for the cache plugin as it has a free subscription plan.
2. Customer Support
Sometimes, technical bugs occur all of a sudden for which you need support to resolve your problem. So, when you use WP Rocket, the customer support team is always beside you to provide instant assistance. On the other hand, undoubtedly WP Super Cache is an amazing plugin but you can't count on dedicated support. The problem can be solved much slower and complicated.
3. Productive Features
WP Super Cache is indeed a super choice for the speed of your site but as it's a free plugin you will not get sufficient benefits. On the other hand, WP Rocket contains more powerful features that you will never find in free cache plugins. A couple of features available for WP Rocket are Critical Path CSS for specific pages, Google Font Optimization, and LazyLoad WP Rocket.
Final Thoughts
We hope that the aforesaid pieces of information have helped you in installing and setting up the WP Super Cache plugin. So, if you are looking for ultimate guidelines to set up this plugin on your WordPress site, you landed on the right page. This tutorial will be going to be efficacious for you!
For more detail, you can call us for optimum WordPress Support at a 24/7 online number.
Tagged with:
Super Cache
WP Super Cache
WP Super Cache Cloudflare
WP Super Cache WooCommerce