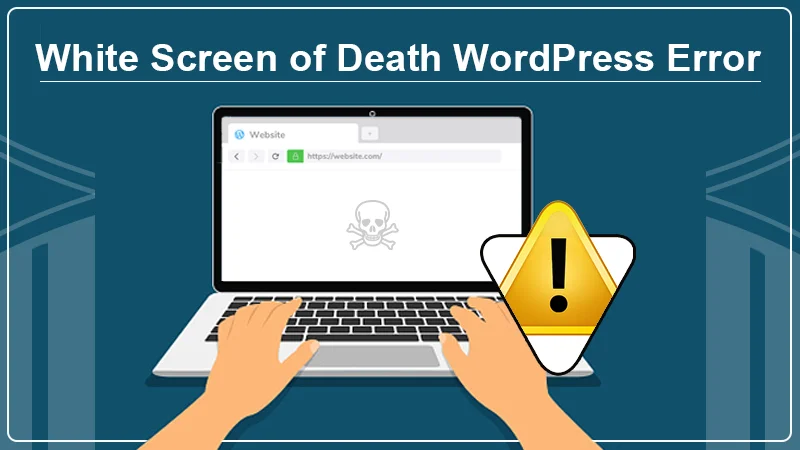 How To Fix the White Screen of Death WordPress Error?
Posted by
Are you blinded by the whites on your website and found a blank screen staring at you? If yes, then you are going through the hit of the infamous white screen of death WordPress error. At a minute, the site might work fine, but on the other minute, everything might be blank. If this happens to you, you must read this blog and see what causes the white screen of death in WordPress and how to fix it.
Most Common Causes of the white screen of death in WordPress
Cause 1: Automatic Update Problems
Symptoms:
This symptom can be similar to a misconfigured database: a white screen appears with no information at all. Or see a warning about a failed update.
Reason:
These occur when a connection problem interrupts your updates or incorrect file permissions that you need to correct.
How to fix:
If you encounter this problem, you will need to perform a manual WordPress update.
Cause 2: Maintenance mode freezes
WordPress sometimes gets stuck. This means that maintenance of the file that WordPress automatically installs when it starts updating has not been removed.
How to fix:
To do this manually, you will need to log in to your site through your hosting panel and delete maintenance located in the root folder of your website.
Cause 3: Plugin issues
The white screen of death in WordPress is a possible culprit when you try:
1. Modify an active plugin
2. Update an old one
3. Install a new plugin
In many cases, the plugin just made installed or modified might conflict with your current theme or other plugins. This is why it is essential to use WordPress products that best practices have developed.
How to fix:
Try disabling any recently changed or installed plugins and see if your WordPress typically works again.
If your control panel is not operational, you can disable plugins in WordPress via FTP access. One way is to have access to your FTP with the necessary directory permissions. Most hosting companies offer an FTP service. However, if WordPress is installed on managed host, you may not have an FTP server.
How to deactivate the plugin:
1. Use an authorized account to log into your FTP server
2. Find your WordPress installation directory and open the folder
3. Select the folder with plugin name
4. Give it a name. Change the folder's name
5. Choose any name unless it sounds like the name of another plugin, and you can remember it later.
That's it! Renaming the folder will permanently disable the plugin.
Open your browser again and see if your site loads. Follow the steps above to disable as many plugins as necessary to tackle the white screen of death in WordPress. Alternatively, you can disable all of your WordPress plugins at the same time. Here's how:
• Disabling all plugins one after another can take a long time.
• Instead, you can rename the main plug-in folder to something else. This should disable all your plugins at once.
• Then create another folder. You can activate any plugin by moving it to the new plugin folder.If a specific plugin modification caused your WordPress White Screen of Death error, disabling the plugin through your FTP server should fix the problem. As a general rule of thumb, test all your modified plugins with a backup site before running them on your leading WordPress.
Cause 4: Issues with themes
Like the white screen of death error caused by the plugins above, disabling the theme can resolve any WSOD issues related to the music. The following are some common causes and
Solutions:
Problems installing a new theme. New themes may conflict with existing add-ins. In this case, disable the newly installed theme, which will revert WordPress to its automatic default theme. Make sure the default theme hasn't been removed yet. If so, download it back to your theme folder. To disable the theme, follow the same procedure described above for plugins, except this time the wp-content / themes folder is used and not the plugins folder. Rename the respective theme folder, which automatically deactivates the theme.
Problems with poorly coded themes:
A significant WordPress update can often remove badly coded themes. Poorly coded or outdated themes often stop working when the latest WordPress update is installed. If you notice that the white screen of death appears in WordPress immediately after an update, your old theme is probably the reason. If you deactivate your theme as described above, this may return to normal.
Problems with theme changes:
WordPress is not a fan of bad coding. Its proper functioning depends on a series of well-constructed objects that work in harmony. If any of these are missing or not working, your WordPress is not working, which leads to WordPress white screen of death error.
Themes from general theme stores (cheeky plugin) and the WordPress.org repositories are extensively tested for errors. If your white screen of death appears in WordPress after installing one of these themes, the problem could conflict with the plugin theme.
Manually changing or updating themes can cause lousy coding, the core of most white screen of death errors. Try replacing the modified file with an old copy of your backup. Otherwise, you must download and reinstall the original theme files.
Cause 5: Memory limit exceeded
For shared hosts, a memory limit of 64MB is sufficient. Consult the hosting provider if the problem persists after making this alteration. Cheap web hosting can also come at the expense of quality. Such providers want to ensure that they get as many customers within a single server as they can. Therefore, the resources allocated to every client are minimal, for example, RAM. If you can't increase your memory limit, you'll need to upgrade to the next plan to stop the white screen of death in WordPress from occurring.
In the end, most WordPress users and admins will face the infamous WordPress white screen of death error at one point or another in their lives. This problem won't arise from the WordPress core itself, but with using themes and plugins not coded with WordPress best practices in mind, user errors, or hosting limitations. If you don't want to worry all that much about this white screen of death error, you should first get a quality service provider. A good company will sort out any potential problems as they arise, ensuring that your downtime is kept at a minimum. It's important to remember that there's a solution to every situation you face.
Final Words

Contact your hosting provider in case the problem persists after making this change. Inexpensive web hosting can also come at a quality cost. These providers want to make sure they have as many clients as possible on a single server. As a result, the resources allocated to each client, such as RAM, are minimal. If you cannot increase your storage limit, you should upgrade to the following plan to prevent the white screen of death from occurring in WordPress.

In the end, most WordPress users and admins will come across the infamous white screen of death error at some point in their lives. This issue does not arise from the WordPress core itself but from the use of themes and plugins that are not coded with WordPress best practices, user errors, or hosting restrictions in mind.

Unless you want to worry too much about that white screen of death, your first option is to choose a quality WordPress hosting provider. A good company or service provider will solve potential problems as they arise and ensure that your downtime is kept to a minimum.

Tagged with:

fix wordpress white screen of death white screen White Screen of Death WordPress White Screen of Death WordPress Error white screen wordpress windows 10 white screen of death wordpress white screen wordpress white screen error wordpress white screen of death